| | |
| --- | --- |
| Posted on September 11, 2020 at 11:15 AM | |
In this week's blog (14th - 20th of September) we will interview David van Delden; we will invite you to our next Master Your Mind book presentation via skype on the 22nd of September "Setting boundaries", by Nancy Levin; we will invite you to our next (the 6th) Personal Journey "Emoshon kiko e ta? Ki efekto e tin?" on the 17th of October and we will share some motivational videos on "Digital design". Every day during the week we will upload one of these links on our Fabebook.com/share2uplift page.

Influencer David van Delden: digital artist with an entrepreneurial spirit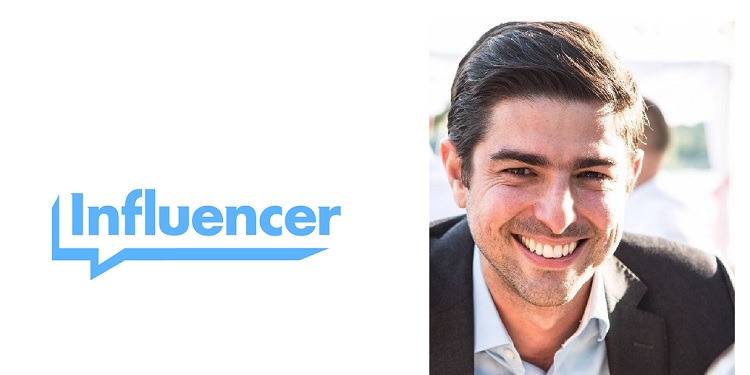 Could you share with us some information of your family life?
My mother is from Aruba and my father is from Curaçao and both are still alive. I was born in Curaçao and I come from a family of three children, two sisters and myself. We would go to Aruba every vacation, so you could say I grew up on both islands. I am married to my lovely wife and she as a contemporary dancer and choreographer is very much involved into Curaçao btw, like doing research into dance and music styles of Curaçao and she has also participated in the musical "Claus" directed by John Leerdam and presented in Luna Blou. I have lived in Curaçao till I was 21 years old and then came to Holland in 2001, were I live now. My parents have always been very supportive in all my choices, also when I decided to study "Design" back then in 2001, this was not very common for someone from Curaçao.


What kind of businesses are you involved in? And what is your position in Ngrane?
We create Digital Online platforms and websites and we help companies reach their digital goals and this based on a solid business model for their online presence. The core of which is Digital Business model and User Experience Design. Basically we say to our clients, "If it is digital, we do it". I am the Creative Director at Ngrane. On top of that, we cherish the human connections and relationships with our clients and employees, helping them to thrive at what they are good at. If one can combine passion with what you are good at, this automatically leads to success. The concept of Ikigai inspires us a lot. Entrepreneurship and business has basically to do with relationships, that is the Number One factor.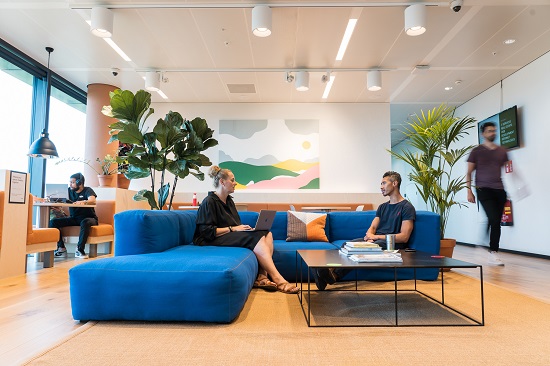 This means that you have a culture where the emotional Intelligence is exceptional.
That is so true. Our success with a client is guaranteed if we and our clients are on the same page in terms of emotional intelligence. I would mention employees as well as they also are an integral part of our culture.

Could you share with us some of your educational background and past professional experiences?
I came to Holland in 2001 and started studying Graphic Design, first at Utrecht but that study was broad and wide in its spectrum, so I decided to do a second study, Multi Media Arts in Amsterdam. I got my Bachelor's degree with honors with a focus on the Digital or Online products, which is basically what I am doing at this moment in time. I started working at Host.net and worked there for three years. After three years, as I was looking for another challenge, I started working for Indivirtual, now their name is Sentia, as a Visual Designer. They are a web bureau creating websites and platforms and they have clients that belong to the top of the world like Fortune 500 companies like Mercedes etc..After that together with Stephen Garcia, I co-founded Ngrane.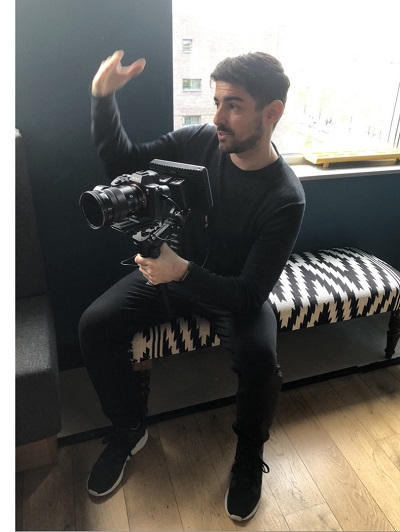 We were referred to you by Stephen Garcia as he considers you as part of the diaspora that can still influence developments in Curaçao. He also send us a trialer of 'Kaminda' and mentioned that you have just won awards in your field. Where does this interest in what you are doing now come from especially your focus on the arts, video and photography comes from?
I was always involved in Art.
I played the drum in Curaçao. When I finalized high school I was on a cross road. I wanted to choose between Music which meant going to the Conservatorium or Design. I choose for Design as there were more opportunities in Design. I also enjoyed painting, filming and photography, basically everything that was audio and visual. When I came in Holland especially when I started at Ngrane photography and filming (video) was a hobby. Every person has its way to express themselves like my wife uses dancing to express her self artistically. For me it was photography and video. Five years ago I started experimenting with this in my free time and I started putting a lot of time into this as it was my passion. I took on-line courses, I talked to other creatives in this line like Selwyn de Wind and Brett Russel and my skills level picked upped. So one day I decided to create something. That is how 'Kaminda' started.


Can you tell us more about 'Kaminda' and can you elaborate more on the awards you have just won?
'Kaminda'  is a story that all of us from the island have experienced. Curaçao is a small island where it is easy to connect and tap into another dimension with the sea, animals and the nature. Metaphorically speaking the island breathes, every wave of the sea that rolls onto the shore can touch you. This is something that all of us have experienced when we were a child. So I decided to film this theme in a short movie where a nephew of me is playing in the "mondi". I started a philosophical discussion with Juan Carlos Goilo and that is how it started and we filmed all of this inspiration. When I started this, I didn't plan to compete or so. It was something I had experienced as a child and that had inspired me and I wanted to tell his story.
As I had chosen photography and film as my passion, I expressed this in a film and as I showed this to some friends they told me, that this story line was special. That is when I started to take it far more serious and involved more people in it, as I needed help to make it a better product. We send it to some Film Festivals and we won two awards, which is awesome.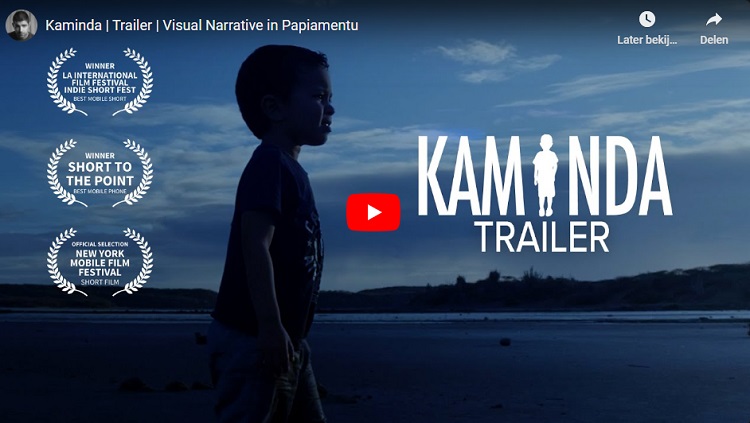 What is your BIG WHY or driving motivation to be whom you are right now?
My BIG WHY is to invest in relationships. I deliberately invest, focus and nurture the relationships I have in my life, be it with my wife, family and other relationships. I aspire to have valuable reltationships around me for the rest of my life. The more you invest in relationships, the more the value of being in this world increases. This gives you happiness. A study in Harvard over 80 years or more shows that the quality of one's relationships in life and the dependability of these relationships, gives people happiness. There are some in my circle of relationships where I could for 100 % count on, that is how important this is.
In this sense, we need to revamp our educational system.
Our educational system is too vested on preparing students to get the highest grades and increasing the number of students moving up to the next level of classes. Whilst the goal needs to be, to inspire and motivate students with the art of learning. By doing just that students learn their why and they will become more interested in studying the curriculum and learning new things.

When do you consider that you have been successful in your personal and business/professional life, let us say 5 years from now?
I feel successful every day. The reason for this is, that we have created a company that already focuses on human connections and influencing people via our excellent client relationships, that I have already mentioned to be my BIG WHY personally and in my business life.
But 5 years from now, we would be successful after we, not me alone, but we have created something that has a big impact in Curaçao and eventually the world. When we have reached certain employees and after we have impacted the mass for a better future and improved the way we live in Curaçao, than we would be successfull.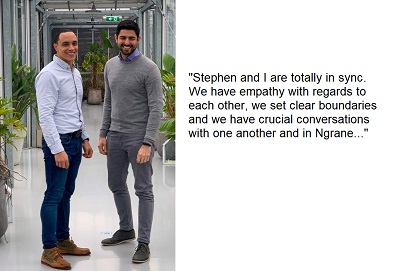 What are the challenges that you are dealing with? And how are you dealing with these different challenges you confront?
Connecting with other people that have good intentions, but are not on the same wave length. It always brings up in me the dilemma: "Shall I invest in this person or is it not worth it and let's just drop this relationship. It may sound a little bit negative, but if they are not like minded that is a challenge. 
I like a culture where we speak out what bothers us. I have learned in the long run this serves both sides best. Stephen and myself have done it in the past, as there have been some misunderstandings, but now we are totally in sync. We have empathy with regards to each other, we set clear boundaries and we have crucial conversations with one another and in Ngrane. A crucial conversation is when there are differences of opinion, emotions can run high and the stakes are high. As the whole organization has read the book Crucial Conversation and are applying the principles, all of us keep each other accountable on this. So if I would be sarcastic, they would correct me if it appeared to be more than a joke, as the joke would appear to be a supercoating of something deeper. The effect this has had in our organization was something I deeply appreciated.

Do you use your inner voice to evaluate when dilemma's show up? How does that work for you?
I want to share with you one story related to my Inner Voice. In one of the cross roads of my career, I was applying for a new job and send in an application to Lost Boys and Indivirtual more or less at the same time. Lost Boys had a tall Tower Building as offices, that everyone driving by on the high way, could see. They were a very known company and on one of the floors they had a Game room, that was very inspiring. For a young,  aspiring professional that I was back then, this would be a great place to work for. I also went to meet the CEO of Indivirtual and we really clicked and connected. They were immediately interested in recruiting me and made me feel so welcomed at Indivirtual and at the other hand Lost Boys didn't react or at least immediately and I was shown the game room by a friendly guy, but there wasn't that connection that I felt at Indivirtual with the CEO. As I committed myself to Indivirtual to start on Wednesday, the Sunday before this Wednesday I got a message that Lost Boys wanted me as a designer and there was my dilemma. What to do know? I talked to my mother, father and some friends and they all more or less told me to go with my gut feeling. I weighted in the dilemma's and what made me stick to Indivirtual was the connection I had made with their CEO. That made the difference. I cancelled Lost Boys although they had this excellent workplace, their Game room, and 6 months later Lost Boys went bankrupt. Had I had chosen for Lost Boys, I had to start all over again with my applications ..etc...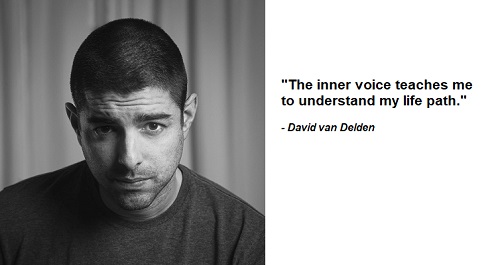 How did your inner voice worked in this specific case?
I sensed the click that was there from the beginning. The contact person at Lost Boys was friendly but superficial. The inner voice makes me understand why I chose that direction. I understood that it was at moment, about the human connection. The inner voice teaches me to understand my life path, it is more about: "I took this turn, let me understand why, it doesn't mean the path is bad for me or so".
How are you trying also to keep up with your personal knowledge and skills levels?
I read a lot online, I follow webinars, there is so much knowledge availble via YouTube these days.
I also surround myself with people that can teach me something and help me keep up. This is very fascinating.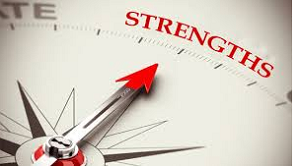 What are your strengths?
I can capture your idea and create something out of this idea, that you can use and be proud of. I am very good at listening to this person, understanding what moves and inspires this person. You have to then take this and put it into a mix with fun and creativity so that they can be proud off.
I am very good in connecting with people. I have this and Stephen has this two to three times better than me. I have learned this along the way.

Do you have hobbies or interests that you are also passionate about?
Apart from my job, it's photography, filmmaking and storytelling.

If you as David would meet a stranger in the bus (let say in Holland or the US) and they would ask you to introduce yourself what would you answer?
Hi, my name is David van Delden and I am an entrepreneur with a focus to helping people and businesses find their passion and achieve success.

How would you describe David in one word or one sentence?
A digital artist with an entrepreneurial spirit.

Whom are the persons that have inspired you the most in your career?
For those close to me it would be my parents since I was a child, my wife, Stephen every single day and many other persons. For those I am not so close to, it would be Steve Jobs especially his life story, especially the way of not doing certain things. And as I love music, as a child the Beatles, Jimi Hendrix his music and how he disrupted the traditional way of playing the electric guitar.

Do you still play the drums?
Unfortunately, I am too busy with other fun stuff, so I'll save this hobby for a later stage in my life.
What is a trait that is still work in progress?
Connecting with people, it is a strength but I also believe that there is room for improvement. I need to improve on this even more. Connecting with people, communication is one of the first things human beings start to do and I want to keep improving on this and continue to progress. Furthermore as an entrepreneur I am more an artist than entrepreneur and I want to keep learning and hone this entrepreneurial mindset. For example in photography I immersed myself into that world. I joined communities involved in photography. I was approached by lots of people and they wanted advice, as I made 'Kaminda' with my smart phone. They underestimate the amount of time I spend into honing my skills, it is ridiculous, so one has to decide if they really want to spend so much time in it. You have to get into this world and immersed into it, go through all the ups and downs and tribulations and not just look at the moment when I got the award. The amount of time I spend on it is really insane, so you want to reach this same level it requires you to be a little bit insane. There will be days where you don't sleep especially considering all the pressures surrounding this to make a master piece and to comply with the requirements, needed to win an award as part of their awardwinning framework. Most people will not bother to go through to this and shale their head and say that I am insane.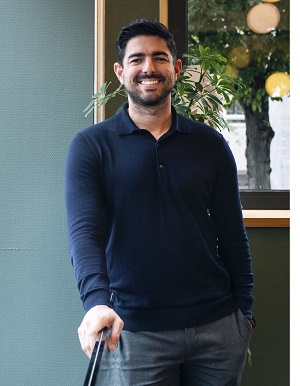 What was a defining moment in your life?
I have had different defining moments, but let's elaborate on this one. As a child I grew up going to church every sunday and I would watch the band playing their music. I was especially interested in the drummer and dreamed of one day being on the stage in the church myself. In my room at home I would listen to music, the music my father loved of the 60-ties and 7- ties, like The Beatles, Funk, Blues and Jazz and I was most interested in listening to the drums, call it a form of selflearning. One day there was an event at the church and we were part of the choir and something happened. The band that usually played at our church had another commitment, so we had no band for the service.
So the music leader asked whom can play the piano, whom the guitar and there was nobody able to play the drums. So I volunteered and we played together all the songs, as I was so convinced that I could play the drums without ever having touched a drum. We played and the lesson learned was: "You can look at something from far away and it might look unreachable, until you try and believe in yourself that you can do it". Steve Jobs tried to break several walls and his whole life path was one of testing the boundaries of what was possible through sheer imagination. And Steve Jobs was not alien. We can also do it.

Where do you want to be 15 to 20 years from now with your career?
In my career as an entrepreneur I would be on my way to have a positive social and digital impact on Curaçao/ Holland and the world. Curaçao that is my dream. As an artist I have the same dream. The movie 'Kaminda' was great to watch as it brought us back to our childhood. There were elements from Curaçao that we carry with us until our adult life. The first three years a child is like a sponge absorbing so many things that stick, creating traits that are helping you until this day. As a filmmaker and photographer I am so aware on how I can impact people, something that can be taught about Papiamentu or culture in 15 to 20 years from now.

What would you want your Loved Ones, family, friends and others to say about you let's say 20 years from now?
I really appreciate the friendship, love and the value that you brought in our relationship.
What are your links with Curaçao although you work and live in Holland? And what makes you stay optimistic about the future of Curaçao as we are in the middle of a worldwide pandemic?
Curaçao is an island and you can go outdoors every single day during the whole year. We are surrounded by the ocean, our nature is unique and we have unique human relationships among ourselves and this is very much engrained into our culture. My relationship with my neighbors is totally different here in Holland compared with Curaçao. I firmly believe that we can spark the collective mind and spirit to work towards a joined and sustainable future.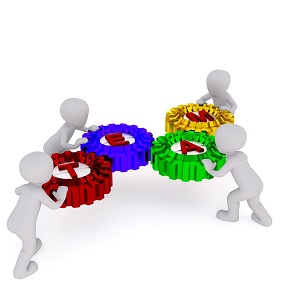 Is there anything else that you would like to add?
I want to mention one last thing and again it is about the human connection. I firmly believe in the team effort, it is not because you can surpass others in skills level that you can do it on your own. With a team effort jointly, we can create amazing things. The only thing needed is the team spirit and empathy with regards to others in the team. I believe that if we can unite like minded, passionate people from Curaçao, we can create impactful changes. We just have to surround ourselves with people, where we can learn something from. We need to "be woke" and consciously inform ourselves of what is happening in the world and around us.
More info or connect:
- ngrane.com/
- davidvandelden.com
- filmfreeway.com/DavidvanDelden
- kamindafilm.com/
- linkedin.com/in/davidvandelden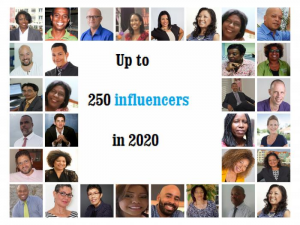 One of the 250 Influencers of Curaçao
David van Delden is a passionate filmmaker, photographist, Digital Artist with an entrepreneurial spirit, whom early life experiences in Curaçao has defined whom he is at this moment in his life. Fascinated at a young age in Arts and in Music, he chose for the Arts as he left Curaçao for his advanced studies to Holland. His passion for photography made him spend ridiculous amounts of time and effort to mastering his filmmaking and photography skills, which underwrites his stamina and made him win 2 awards this year for the film 'Kaminda'. His human connections with Loved Ones and clients, his strength, is also a trait where he believes that he has to continue to work on life long. His ideas on the endless possibilities, that can be tapped via team effort, the importance of empathy with regards to each other, the need to set clear boundaries and having crucial conversations has created an unique corporate culture at Ngrane, where he is the Creative Director. Furthermore David is driven as an entrepreneur and artist by an ambition, to have an impact on Curaçao, Holland and the rest of the world. For all these reasons, we love and deeply respect David and we are convinced that he will in collaboration with others, definitely impact Curaçao. That is why we consider David, one of the 250 Influencers on the island representing the business sector and the arts sector.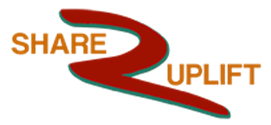 The goal of the core group of Share2Uplift for 2020
The goal of the Share2Uplift movement is to: "Identify 250 leaders from all walks of life to connect, align and create impactful changes in all walks of life, which includes intergenerational collaboration by the end of 2020." We will use interviewing Influencers, meet-and-greet events, "train-the-trainers"-programs on "Emotional Mastery" and "Intentionality "as national intervention strategies, to reach this goal on top of our goal to scale up the possibilities to connect, align and create impact via a virtual platform. We believe that with collaborating with Miguel Goede on the virtual Vision 2030 platform, we will accelerate the possibilities to connect the diaspora and others elsewhere in the world and on the island willing to constructively create impactful changes in Curaçao, to join. 
Look at the list of the Influencers we have interviewed or reported on, up to now.



As Share2Uplift we are fully trying to align with this thinking of Center for Curriculum Redesign to promote this agenda in our educational systems and workplace. So, in that sense we fully support any initiative to make our educational system 21st century proof.
Share2Uplift aligners are those that:
– Create an inspiring vision of the future;
– Motivate and inspire people to engage with that vision;
– Manage delivery of the vision;
– Coach and built a team, so that it is more effective at achieving the vision.
These criteria are now being polished.
We also consider these 5 values of the most important ones for Share2Uplift aligners. They are:
• Peace from within;
• Compassion;
• Respectfulness;
• Integrity;
• Responsibility. As we will progress towards this goal we will update you on the progress.
Visit the website for more information.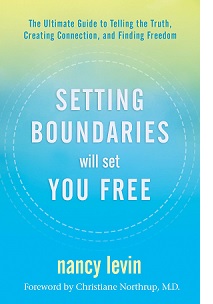 Our next MYM-platform session in September via Skype
Our next MYM-platform session will be on the 15th of September (the 3rd Tuesday of the month) via Skype, where we will present "Setting boundaries will set you free, The Ultimate Guide to Telling the Truth, Creating connection and Finding Freedom." by Nancy Levin.

Do you feel like you're a "pushover"? Do you let other people make all the plans--letting them pick the movie, the restaurant, or the vacation destination? Does self-care feel selfish to you? And do you find yourself feeling resentful toward others because they don't seem to take your needs into consideration? Can you relate? If the answer is yes, this is the book for you! In this book, master coach, speaker, and author Nancy Levin will help you establish clear and healthy boundaries. This isn't easy; many of us don't want to "rock the boat." We assume setting boundaries will lead to conflict. And, unfortunately, by avoiding conflict and not setting limits, we tend to choose long-term unhappiness instead of short-term discomfort. This book includes exercises and practical tools to help even the most conflict-averse, people-pleasing readers learn new habits.

You'll learn how to recognize and take inventory of your boundaries, view your boundaries differently by creating a Boundary Pyramid, learn how to say "no" effectively, and set your Bottom-Line Boundary. As your supportive guide, Nancy will show you how to gather the courage to live a life of "boundary bad-assery." "This work was life-changing for me, and if you're someone who has avoided boundaries for years, it can change your life, too." -- Nancy Levin
 Subscribe by sending us an email sixtaivan@gmail.com or ivan@upliftingCuraçao.com and we will send you the Skype link so that you can participate in our presentation of this book.
Time: 7.30 – 8.45 pm.
Entrance fee: Free
Presenter: Ivan Kuster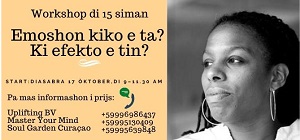 Starting October: New workshop in Papiamentu on Emotions
Gran majoría di nos komo ser humano, ta pasando diariamente den un fluho konstante di diferente pensamentu i emoshonan. Esaki ta konta mas aún awor ku nos ta den e gara di COVID-19. Emoshon ta nos kompas interno. No tin emoshon malu ni bon, emoshonan tei pa guía. Nos tin ku atende ku nan i no neglishá, reprimí ni suprimí nan, pa nan no kausa efektonan negativo despues ku ta inesperá. Emoshonan por ta un insentivo pa nos desarojá e potenshal inlimitá ku kada un di nos tin komo persona.

Nos ke yudabo den desarojá esaki, dor di ofresé bo un "personal journey" di 15 siman. Den e 15 simananan aki nos lo sinjabo:
• maestría di bo emoshonan;
• kon di deshasí di emoshonan atrapá;
• biba un bida mas intenshonalmente;
• skucha bo intuishon mas mihó pa asina bo por ta mas kreativo i
• kon di laga loke bo a sinja bira un kustumber i transformabo komo persona.
Nos lo kuminsá riba diasabra 17 di òktober di 9 – 11.30 pm.

Pa mas informashon i detajes di e suma ku ta kobra, tuma kontako ku un di e 3 fasilitadornan:
Haydee Hermans Soul Garden na telefón: 5639848
E-mail: soulgardenCuraçao@gmail.com
O'dennis Daal Master Your Mind na telefón: 5130409
E-mail: odennis.daal@mymcur.com
Ivan Kuster Uplifting BV na telefón: 6986437
E-mail: ivan@upliftingCuraçao.com
Website: www.upliftingCuraçao.com/workshop-emoshon-kiko-e-ta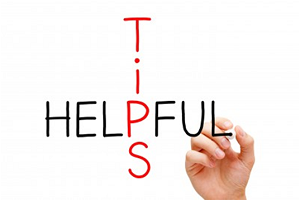 Personal Coaching tip
This week we will share some motivational videos. This week we will share some on 'Digital Design'. Every day in the week we will upload one of these video-links on our Fabebook.com/share2uplift page.


"One Mind" | Short film on Creativity - YouTube
https://www.youtube.com/watch?v=6Dm_wut89oU

Original | Short Film on Creativity - YouTube
https://www.youtube.com/watch?v=4SBFv_IVFOo

Creativity - YouTube
https://www.youtube.com/watch?v=WS4UE1A_Npc

Everyone Can Be Creative - YouTube
https://www.youtube.com/watch?v=tTtjETjGDFY


Creative Thinking: How to Increase the Dots to Connect - YouTube
https://www.youtube.com/watch?v=cYhgIlTy4yY

The Art Of Creative Thinking - YouTube
https://www.youtube.com/watch?v=xB-D9ZNlYFc
Categories: Influencers, 21st Century Mindsets, Share2Uplift