| | |
| --- | --- |
| Posted on July 1, 2019 at 4:05 AM | |
In this week's blog (1st july – 7th of July) we will interview Max 'Taximax' Tjoen Tak Seu; we will invite you for our next workshop "How to unlock the Brain's power" on the 9th of July; we will invite you to a repetition of the "Power of Intention"- workshop on the 11th of July for those whom missed the first workshop both at Chit Chat Café; we will invite you to our next Master Your Mind Platform-session on the 16th of July and we will share with you some motivational video clips on "courage". Every day we will upload one of these video-links on our Facebook.com/share2uplift page.

Taximax: a smile from my guests with every rose


Max, we got interested in interviewing you because someone told us that you are an exceptional positive and client centered person and a role model as taxi driver working on Curaçao. Could you share with us some information of your family life?
I have 2 children and I am married. I come from a family with 7 brothers and 4 sisters. Furthermore, I have worked different jobs in my life I have been a waiter, I have been in the Industrial Security business, I have been a member of VKC for 25 years and I have worked as a bus driver for 2 years before I started my career as taxi driver. One thing has always characterize what I did in my life is, I can't sit still and don't do anything. I have been waiting for an official taxi permit and it didn't happen, so I decided to lease a taxi permit.

What is your BIG WHY or driving motivation to be whom you are right now?
I am so thrilled when my customers are happy and to achieve that, I always try to go the extra mile for my customers. I always say to myself, that it is never enough and it is exactly where I am being appreciated for the most, by my customers. It has become an automatic part of whom I am today. I am aware, that if I treat them very well, I will reap positive endorsements expressed via social media and elsewhere from these customers and this even motivates me extra. For me I consider how I treat my customers as my "work of art." And as customers when they are back home will share their positive experiences with family and friends. This brings me new customers, because they don't want to get another taxi if they decide to come to Curaçao.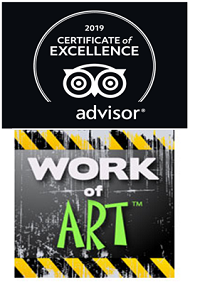 It seems to us that you are a very Emotional Intelligent person and you can deal with people very well. What are some of the things you do that makes you so special?
As I have said, customer service is a work of art, that I do this with all my heart and soul. You have to put yourself in a position to attract customers by the level of service that you give to the clients. For example, I open the doors for them as they enter the Taxi; I ask them what kind of music they want to listen to during the ride; I am very well equipped with different types of music like merengue, disco...you name it; my taxi is always well polished and shines and they enjoy this; I always take care of the cleanliness inside my taxi and it always smells good; I tell them jokes and I am able to talk about politics in the US; I use the latest technology to improve my service; I drop by at a snack or something, along the road and offer them a welcome drink if I have picked them up from the airport; I offer them local sweets as we go for a trip to Banda Abou; I know how important body language is, as I have worked as a waiter, so I know what works best and I also draw boundaries, I don't facilitate illegality for example drugs, as I don't want to get in trouble with our laws. This formula has worked perfectly for me. And this has earned me a "Certificate of Excellence of 2019" by Trip Advisor, which I am very proud of.

At times my clients are so pleased with my services that they offer me, if I would visit Miami or Los Angeles, to come and stay at their place or apartment they have. I really want to be different. Because of that I am being booked at times months in advance, as they plan to visit Curaçao again. I also do a lot of promotion via social media for Curaçao. I recently uploaded a video of Curaçao on Linkedin and I titled it: "Curaçao an island between Aruba and Bonaire, home town of Andruw Jones and many other Big Leaguers.". By doing this in a creative way, I get more people in the US interested to visit Curaçao, which will be beneficial to me and the island. I also offer via social media, to my female customers the opportunity to win a personal alarm system easy to carry along for free, if they make use of my services 4 times and it works.



What are the challenges that you are dealing with? And how are you dealing with these different challenges you confront?
I don't have a lot of challenges. I do strongly believe, that we need to upgrade our service levels in the tourism sector. If we are on course to increase the number of tourism visitors, because of an increase in the number of hotel rooms, we need to match the service levels of other tourism destinations like for example in Aruba, because the visitors are at least used to that level of service.
As a matter of fact, if we would do nothing about it and they would come and have a bad experience, then it would be too late. You know, for me personally it doesn't matter if one client says something negative about me and my service, because I have so many others that give me positive to very positive feedbacks, so it doesn't bother me personally. But the whole island that is a different ball game.
And yes, it has happened, that customers book me and then cancel me at the last moments, because they found another tour company that was less expensive and this made me consider introducing a cancellation fee. So, this I will also deal with it.
One last thing, I know that in Aruba they have 450 taxi licenses. Here in Curaçao a bigger country with more demand, we have 200 numbers only and I strongly believe that more licenses should be distributed as the tourism market is growing. This is important, because then it is possible to deal better with illegal taxi drivers, which I now consider a challenge, that can also be a serious legal problem with foreigners sue-ing our country.

What are your strengths?
Everything that I have done was unique. As security officer I have learned not to take unnecessary risks. I don't believe that it is always 100 % safe. So, don't go in the ghetto, as anyone in any country around the world that lives in a ghetto is poor and wants to survive, their desperation could harm others. So, don't go to these abandoned beaches during the week days without being cautious, also sleeping on the beach with your belongings all over the place and I suggest my customers to go to these beaches where there are restaurants with all necessary facilities. So, as I never lie to a guest, I do inform my guests on the to do's and the don'ts.
I am a good communicator and I am proactive every single day, as I post something positive of Curaçao via all my social media outlets.

Do you have hobbies or interests that you are also passionate about?
I like snorkeling and I accompany my guests on a snorkel trip and I make a video of them, the moment they for an example swim with the turtles and later on, have a lunch.




If you as Max Tjoen would meet a stranger in the bus (let say in Holland or the US) and they would ask you to introduce yourself what would you answer?
I am Max. I make people happy by offering them a red paper flower. I take pictures of couples and make them smile and feel romantic.

How would you describe Max in one word or one sentence?
Taximax, a smile from my guests with every rose. By the way, I learned to make these roses while I was working as a waiter, but made myself un upgraded version that is smaller and stronger.
How do you keep up with your positivism?
Every day I go out to work, I am convinced that at the end of the day, I will have achieved the goals for that day. Even if I close the day with no ride at all, I will stay be positive. Why? Because I am convinced, that I will catch up the next day based on a deep faith in GOD. Every single day, I have the same energy and love in every single thing that I do.

Where do you want to be 10 years from now with your career?
Unfortunately, I will not be driving a taxi, but I will still be involved in planning the next steps in the tourism sector on the island. I would have other carefully selected people driving my guests in their taxi, I would be entertaining people if I'm their host, in all scenarios I will not be sitting at home doing nothing. For the very short run as I have been working for years 365 days, I will be on vacation with my family by next year.

What would you want your Loved Ones, family, friends and others to say about you let's say 15 years from now, as you are celebrating your birthday?
I would have a big party on Wilhelmina plein with my family and friends and I would invite passing by guests to my celebration and share this moment with them and if there are any of my repetitive guests during that day, it would make me very happy to have them with me.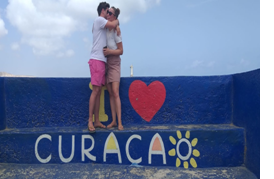 What makes you stay optimistic about the future of Tourism in Curaçao and what makes you stay optimistic about Curaçao in general?
I believe in the future of Tourism in Curaçao, due to the fact that we have the potential in providing more to our traveling guests and that by opening opportunities for more foreign investors we could be advancing in a short time in creating more jobs and the same time more tax for the Government and creating possibilities to change our negative financial position, into a more positive one. That is why I am optimistic about Curaçao. That is why I post something positive personally on my social media outlet almost every day, because I am engaging on a daily basis to acquire the attention of interested parties to come and invest as soon as they set their foot on the island, but we need Government officials to start moving towards this phase by preparing themselves to embrace opportunities. We may get and make Curaçao the hidden gem, finally shine!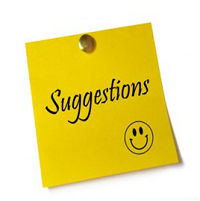 Is there anything else that you would like to add?
Yes, just four ideas that I have. We need to deal on a more direct way with tourists. I have this wild idea:
Firstly, why not let every company on the island offer their workers 30 minutes during 28 consecutive days and promote something positive of Curaçao via their own social media outlets. This will create such a boost in promotional activities that you wouldn't need to have a marketing company to promote the island. That according to me, is our best least expensive sales strategy, it's directly between friends and family members abroad and the exposure is massive and will go viral. Via social media you can reach people faster and directly, making this the best marketing strategy and most successful one too!

Secondly, as I said before, I make videos of some customers, snorkeling, dining etc... and I give it away to them, so that they can share this among their family and friends. Their personal experience is priceless and much more trustworthy than any other form of sales marketing strategy.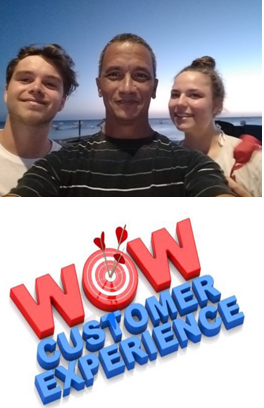 Thirdly, I've recently been to a course of security and damage control, that I recommend the authorities for offering more of these courses and I believe that more needs to be done. I want to stress that our Tourism 
Authorities and those involved in the hospitality industry need to upgrade the service levels of those working in this sector. We need to set standards for different areas in the sector, like for the taxi branche on the island. We need to look at the whole service chain and enable better collaboration and by doing this everybody wins. There is a need to monitor how quality standards are being upheld.

Fourthly, we also need to use a positive approach towards rewarding employees. Choose the employee of the month and offer them a free week-end in local hotel for them and their family. We need to honor those whom are doing an exceptional job in their area and lead the country by example and effectively boost the results within the tourism industry. I am definitely sure that by compensating them for the challenges some workers may have in the hospitality sector by increasing their wages, will be rewarding while their cost of living is rising. Invest in honoring the good employees you will get a good return on investment out of it.
For more info on Taximax:
- www.facebook.com/CuracaoTaxi
- Tripadvisor
Phone: +59996976302


Max Tjoen Tak Seu is an inspiring taxi driver with a positive perspective on his customers, his work, his life and the island in general. As a representative from the hospitality sector of our island, he is renowned and highly appreciated by his customers, because of the way he treats his customers. He qualifies this as "his work of art." We love and deeply respect Max for his high standards he offers to his clients and in that sense, he is a role model and therefore an Influencer for all working in the hospitality sector. We definitely consider him one of the 250 ethical leaders of our Island with a warm heart for his customers and Curaçao.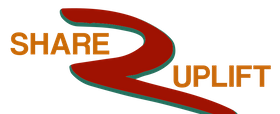 The goal of the core group of Share2Uplift for 2020



As the Share2Uplift movement our goal for 2018 has been to identify 250 ethical leaders (Influencers) to be empowered by 21st century mindsets and are connected and collaborate with one another to create value for the whole of the society. This goal has only been partially met. We now want to reach this goal by the end of 2020. Look at the list of the Influencers we have interviewed or reported on, up to now.


As Share2Uplift we are fully trying to align with this thinking of Center for Curriculum Redesign to promote this agenda in our educational systems and workplace. So, in that sense we fully support any initiative to make our educational system 21st century proof.

Share2Uplift aligners are those that:
– Create an inspiring vision of the future;
– Motivate and inspire people to engage with that vision;
– Manage delivery of the vision;
– Coach and built a team, so that it is more effective at achieving the vision.
These criteria are now being polished.

We also consider these 5 values of the most important ones for Share2Uplift aligners. They are:
• Peace from within;
• Compassion;
• Respectfulness;
• Integrity;
• Responsibility.As we will progress towards this goal we will update you on the progress.
Visit the website for more information.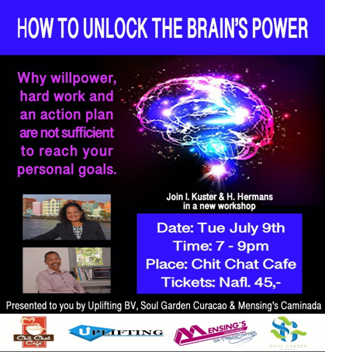 Workshop on the 9th of July

In the series of workshops Haydee Hermans (Soul Garden) and Ivan Kuster (Uplifting BV) will offer this year, we will address the topic: What is holding you back?

Our second workshop of 2019 at the Chit Chat Café at Mensing's Caminada as part of a series of three will be:

"How to unlock the brain's power. Why willpower, hard work and an action plan are not sufficient to reach your personal goals."
This series aims at explaining ways and means to change your mindset and we hope to trigger you, to take the necessary steps to change your mindset and by doing that, change your behavior as long as you are consistent in the actions you take.
So, save the day and we hope to greet you then.
Date: July 9 th
Time: 7 – 9 pm
Place Chit Chat Café Mensing's Caminada
Tickets: Navel. 45,-
Save the day and we hope you will attend.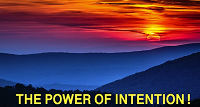 The Power of Intention on the 11th of July
On request we will repeat the workshop "The power of Intention". We will teach you how to formulate and work on your Intention and we will show you and invite you to experience a so-called "group of 8"- type of Intentionality, where your intention can be magnified.
Date: July 11th
Time: 7 – 9 pm
Place Chit Chat Café
Tickets: Nafl. 45,-
Save the day and we hope you will attend.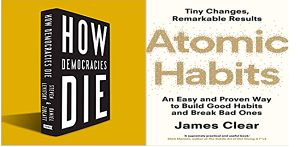 Our next MYM-platform session in July
We would like to invite you to our next MYM-platform session on Tuesday, the 16th of July (3rd Tuesday of the month), where we will present two books:
"How democracies fail", by Steven Levitsky and Daniel Ziblatt and it will be presented by Michiel van der Veur and "The atomic habits", by James Clear to be presented by Ivan Kuster.
Time: 7 - 9 pm.
In "How democracies fail" the authors raised the question if Donald Trump's presidency has raised the question: Is our democracy in danger? Harvard professors Steven Levitsky and Daniel Ziblatt have spent more than twenty years studying the breakdown of democracies in Europe and Latin America, and they believe the answer is yes. Democracy no longer ends with a bang—in a revolution or military coup—but with a whimper: the slow, steady weakening of critical institutions, such as the judiciary and the press, and the gradual erosion of long-standing political norms. Drawing on decades of research and a wide range of historical and global examples, from 1930s Europe to contemporary Hungary, Turkey, and Venezuela, to the American South during Jim Crow, Levitsky and Ziblatt show how democracies die—and how ours can be saved.
In "Atomic Habits" the author will reshape the way you think about progress and success, and give you the tools and strategies you need to transform your habits--whether you are a team looking to win a championship, an organization hoping to redefine an industry, or simply an individual who wishes to quit smoking, lose weight, reduce stress, or achieve any other goal. You will earn how to:
* make time for new habits (even when life gets crazy);
* overcome a lack of motivation and willpower;
* design your environment to make success easier;
* get back on track when you fall off course;...and much more.
Place: Chit Chat Cafe Mensing's Caminada
Entrance fee: Free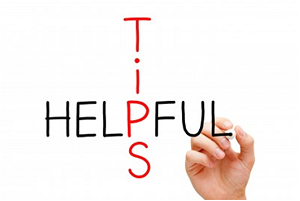 Tips
In this week we focus on "courage" as motivational tips. Every day during the week we will upload one of these video links on our Facebook Page.
WHAT IS COURAGE? - YouTube
www.youtube.com/watch?v=QlfEiLvxCOY

COURAGE - Powerful Motivational Speech - YouTube
www.youtube.com/watch?v=fFalmesXWMY

Graffiti - A short film about courage - YouTube
www.youtube.com/watch?v=UTpaABPUMWY

Courage- Short Film - video dailymotion
www.dailymotion.com/video/x361pmj

Moral courage (short film) - video dailymotion
www.dailymotion.com/video/x2oqmqc
The Call to Courage - Brené Brown compilation - YouTube
www.youtube.com/watch?v=zDIQQx1KNZc
Categories: Influencers, 21st Century Mindsets, Share2Uplift