| | |
| --- | --- |
| Posted on July 19, 2020 at 2:05 AM | |
In this week's blog (20th – 26th of July) we will interview Gyselle Meulens-Petronia; we will invite you for our next Master Your Mind book presentation in the 21st of July; we will invite you for our next Personal Journey of 15 weeks starting at thr 22nd of August "Emoshon kiko e ta? Ki efekto e tin?" and we will share with you some video links on the "4th Industrial Revolution". Every day during the week we will upload one of these links on our Fabebook.com/share2uplift page.
Influencer Gyselle Meulens-Petronia: Making it happen, open, enabler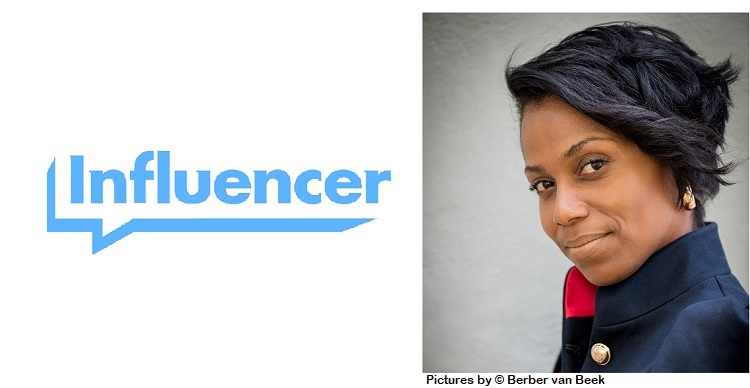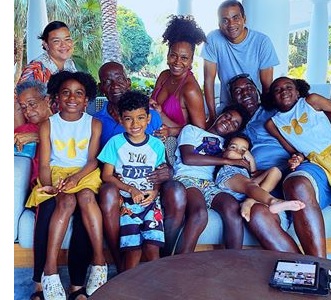 Could you share with us some information of your family life?
I am married and have a family of five children, three of my own and two bonus daughters from my husband's first marriage. Both live in the US. From the oldest daughter, we have two grandchildren and these are not far from our youngest daughter. So we truly are a blended family. 

I have one brother Renzo and my parents are still alive and very supportive, in fact they are a great help in the extra hands the care taking of my three children (all younger than 10 years) require. They have been very supportive during my whole life and I can still clearly remember that one day I told my father that I wanted to become a leader. He told me that: "Whatever I felt that I wanted to do in my career, I should do." Those words always resonated with me from that moment on.

I was born in Holland, both my parents are from Curaçao and when I was 7 years old, we came back to Curaçao and when I was 17 years old, I returned to Holland and studied Fiscal Economy at the University of Groningen.
Could you share with us some of your educational background and past professional experiences?
After I got my degree I started working at KPMG-Meiburg in Holland. During some years working, I decided to continue my academic career and studied at the University of Leiden, the "Cost effects of Tax Increases" and went to work back at KPGM after finalizing my studies. After some years working, I started asking myself if this was all there is in my career?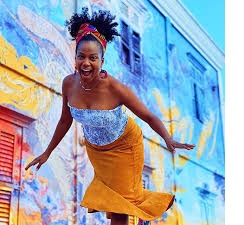 So I made a bold decision, I decided to follow my heart and choose for a completely different career in arts. I became the financial director of Luna Blou, Dana Kibbelaar as the Artistic Director, and focused on the performing arts parts and at the other hand I became an event organizer bringing events to Curaçao. I maintained a link with my fiscal expertise and after 11 years at AIC, 4 years ago I decided to start my own company "Scale Forward", which is what I do now.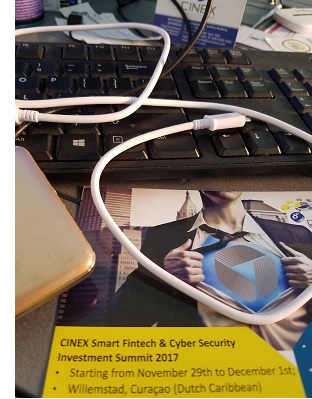 What kind of business are you exactly in as an entrepreneur and what is services does your company ScaleFWD offer? 
The main goal of ScaleFwd is to enable (tech and financial related) solutions. We engage in applications / solutions that we are of the opinion that will bring an added value for the island. But we also look for financing for companies who would like to scale up. Besides that we build a bridge between Curaçao and the States through the necessary contacts and networks.


For instance 3 years ago, we organized a start up-bootcamp in collaboration with BrainCoral Labs. We brought Founders Space to the island. Founders Space is one the top accelerators of Silicon Valley. One of the world's leading startup innovation hubs. The founders Steve Hoffman and Naomi Kukubo came to Curaçao and they liked what they saw in term of our start up tech companies.
Over the past 10 years that I have been in San Francisco, I have developed quite some contacts. What we do is, we offer the possibilities to companies to scale up especially related to the technology side of their business. The idea is to bring local companies in contact with companies in San Francisco. Together with the owner of BrainCoral Lab, Natasha Chatlein we enabled a weeklong action-packed bootcamp. This bootcamp's sole goal is to help the companies scale fast by giving them actionable insights into their product-market fit and business processes, as well as access to a powerful network of top advisors, growth hackers, lawyers.
Through ScaleFWD we enable and that is bringing companies to a next business level based on improved efficiency through technology and through contacts in our network.
We are now living de in the 4th Industrial Revolution era. There are so many changes taking place, in so many areas at this moment. This is really an immense change at the moment. The traditional pillars Oil, International Financial Sector and Tourism in Curaçao will not be the leading pillars of our economy in the near future. So, I believe that we will have to enable people, to learn new skills to make it possible to easily make the shift and adapt to this transition, as the changes will be inevitable.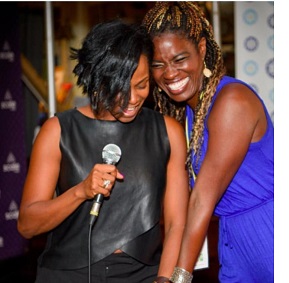 How does going back and forth to the States affect your effectiveness to offer services to the Caribbean area?
By travelling back and forth to San Francisco over the past 10 years, has made the differences clearly visible to me. It is clearly an added value to live in both these worlds. The changes we have experienced in San Francisco (they are part of the Silicon Valley) are going so fast like Airbnb concept, Uber,..you name it, everything that has to do with efficiency that technology can offer. By being often in these two worlds, in San Francisco were the lines between the technological and the physical are blurring and the willingness of our business contacts to be helpful, their global perspective and sharing of constructive suggestions without holding back - they believe in "sharing is multiplying"-, it clearly shows me the differences in the worlds we are living in. In Curaçao technology is almost non existent compared to San Francisco were technology is so pervasive. 
In this, I would like to mention the need to re-visit our educational system as I believe parents should play an important role in this, together with the government and other stakeholders in this sector. We would have to rethink the landscape of our childrens educational curriculum. This should entail a different set of skills and mindsets, like more stem, science backed technology, math but also a critical mindset which for most of our children is not something that comes in naturally. We just need a much higher level of engineering in our educational system considering the pace the world is changing due to the 4th Industrial revolution.
How important is innovation and digitalization for Curaçao and the Caribbean and what is FinTech exactly as we are in the middle of transformational changes driven by Artificial Intelligence in the midst of a global pandemic?
FinTech is Financial Technology is digitalization of the banking sector. Its core is to provide technology to make financial services more efficient and readily accessible for anyone. It is clear that adminitrative jobs, front desks and more bookkeeping tasks will be digitalized. I am happy that the COVID-19 pandemic triggered many companies to digitalize faster than they were planning to. More than 70 % of children between the age of 4 to 6 years don't know what their future job will look like, when they become adults. As we in Curaçao are way behind in technological sense, it gives us opportunities to access the tools that we need, as long as we have good leadership to guide us to get these tools that will bring us this new technology driven tomorrow. In COVID 19 we have seen that technology can help track who has COVID, enforce social distancing and enforce high risks persons to quarantine for the well being of all.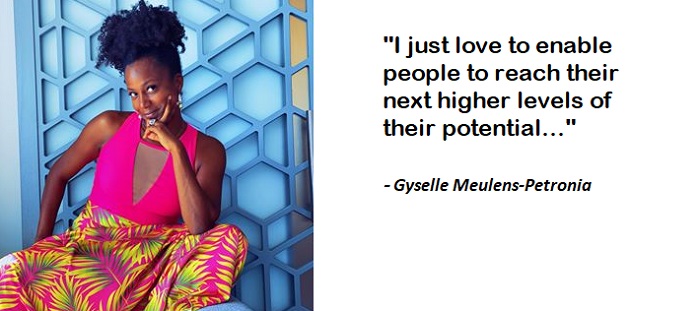 And when do you consider that you have been successfull in your personal and business/professional life, let us say 5 years from now?Business wise I will be successful if I would have enabled people in the educational sector to pick up STEAM and put technology in the curriculum. Coding should become as normal as picking up a book to read. That it would be normal for a parent to let their child follow an online course on how to make a video game. Snapology for instance is an outstanding program available in Curacao, that is doing a great job in terms of getting kids to engage with engineering. We need more of this. We need it to be in the schools! We need companies that can support this massively. But mainly it is up to us parents to involve our kids in these types of programs.
Those kids are our responsibility. Be it in a platform or so, parents should take the lead in this because government on itself will not make the changes, as government if doesn't feel the pressure(s) from group(s) to change the educational system, it will not change.


Personal success would be, doing more of the things that I love to do, that is to enable others.I know I cannot lead where I have not been, and I cannot teach what I do not know. For me there is no effort involved with helping others. That's something that comes natural. I call myself an enabler in that sense. I love to make things possible. That triggers me. Empower the human being and power up whatever they would like to achieve.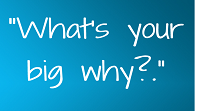 What is your BIG WHY or driving motivation to be whom you are right now?
I love to make things possible.I love to look at new things. I love Innovation, I love people that can re-invent themselves. I am always at the forefront of: "Okay, let's try something different". My BIG WHY? I am actually a real enabler.


What are the challenges that you are dealing with? And how are you dealing with these different challenges you confront? 
My challenges are within myself, Be a better version of yourself. Everyday in everything we do. it is about overcoming my self. The obstacles I put for myself and overcoming these fears which can be all sort of fears. they can be big or small fears. To overcome them is not easy at all. It's about rewiring your brain. Develop mantras and affirmations that build you up. Like the bo'oponopono mantra "I am sorry - Please forgive me - Thank you and I love you" is one of my strongest mantras I use whenever I feel an instant fear. And then I use mediation to look deeper into this fear. Meditation allows me to sink slowly into a deep space of relaxation, surrendering to the present moment and dispelling fear in the process. That takes practice and dedication.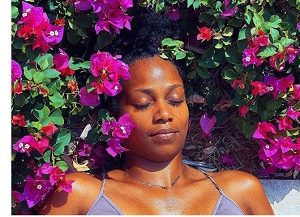 Do you use your inner voice to evaluate when dilemma's show up?
I am very connected spiritually. The older I have become, the more I use my gut feeling instead of my left brain. If my intuition says "No" like taking a flight on Sunday or Monday, I will follow my intuition. This has become even more clearer for me with the birth of my children. I value my intuition.
How are you trying also to keep up with your personal knowledge and skills levels?
Between 3 and 4 am, I wake up and read all that is important for me and go through my virtual conferences especially lately and by 2 or 3 pm, I am done. That was my day in terms of work.
What are your strengths?
I am a very open person, it comes easy to me to talk and engage with other people. I am strong in communicating with others. I am an enthusiastic person and I love to explore new things, new worlds. 
I am not a people's reader, but I come close to being one, as I can sense other people's energies. I am a good humored person by nature, if something didn't go well today, I would sleep over it and the next day pick it up again with the same or even more energy.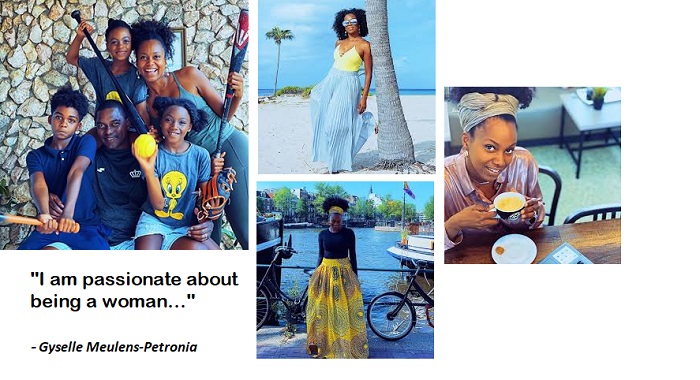 Do you have hobbies or interests that you are also passionate about?
I am passionate about Women in general. It's inspiring for me to read and learn about other Women and their driving force. The things that make them unique and at the same time powerful. Because being a woman myself and putting on so many roles - a wife, a mother, an entrepreneur- I know is not easy. I have grown so much. I am close to being as authentic as I can be. I have been inspired by other great women and leaders like Oprah Winfrey. I had this desire to meet her personally and talk to her which happened and that was one of my top manifestation moments in my life, as Oprah is a very spiritual and warm person. She was watching me right in my eyes and gave me her undivided attention when we talked. It was awesome. An unforgettable moment.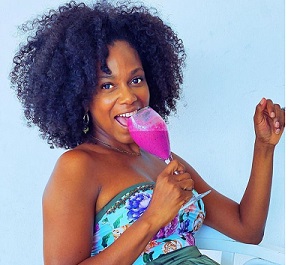 If you as Gyselle would meet a stranger in the bus (let say in Holland or the US) and they would ask you to introduce yourself what would you answer?
I am Gyselle from Curaçao and I am enabler.


How would you describe Gyselle in one word or one sentence?
Making it happen, open, enabler.

Whom are the persons that have inspired you the most in your career?
My father. He is a very humble man and open and very social towards people he know but also to strangers. He has taughed me a lot about communicating with people. 


What is a trait that is still work in progress?
On my way to be as close as possible to whom I am. I am almost there, but I don't feel that I have reached it yet. I am working on this every single day via my meditations as my foundation and through reading.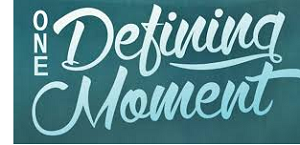 What was a defining moment in your life?
When I became a mother, all of a sudden I realized, that when I didn't have any children, I thought that everything was possible. Now that I have them, I am much more aware that I need to guide them, be supportive, listen to them because every day they teach you lessons and let go of the person that I am myself. It is a continuous learning process. Apart from my career and trying to be the best wife and mother possible, my children look up to me and this is a responsibility that I have as a parent, which is huge and awesome.


Where do you want to be 15 to 20 years from now with your career?
I want to be able to say "No", without any reasoning. "No" as a full sentence, just being very comfortable saying that.

What would you want your Loved Ones, family, friends and others to say about you let's say 20 years from now?
Whenever they were in touch with me, I made them feel happy, good or better.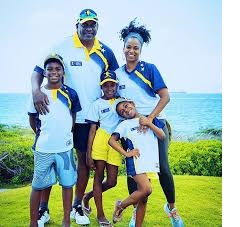 We are climbing out of the lock down now and just starting to open our borders back since the first of July, because of the presence of the Corona virus in World. What makes you stay optimistic about the future of Curaçao?
My kids, they make me stay positive, this upcoming generation I am convinced that if they get the tools, they can make the turnaround the island needs.
Connect with Gyselle Meulens-Petronia
LinkedIn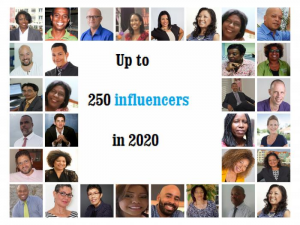 One of the 250 Influencers of Curaçao
Gyselle Meulens-Petronia, is a wife, mother of 5 children, grandmother, energetic, spiritual, visionary, warm hearted enabler of innovation that has a strong affinity and involvement in arts and culture. Apart from being a business owner (Scale Forward), Gyselle is passionate on enabling people and companies to be better versions of themselves, with a special attention towards the next generations. Living her life between San Francisco (Silicon Valley) and as of this year New York and Curaçao, has made her a fervent advocate of the necessity to focus more on tech, math and science in the curriculum in our educational system. As we are living in an ERA of the 4th Industrial Revolution, those whom are between 4 tot 6 years old will live in a totally new world, completely dominated by technology and science and for most of these children, we have no clue in what kind of jobs they will be working, when they become adult. Gyselle firmly believes that our new normal should be that our kids should find learning "codes" and following an On-line course on how to make a video-game, as normal as reading a book. Just like working collaboratively with no holding back, as the transformational changes in the coming years will be inevitable and it offers opportunities. This requires leadership necessary to bring to the island the tools required to play a role in this new world of Tech and Science. As Gyselle is trying to be the best she can be in all her roles she has in life, her drive to enable others and companies to be better versions of themselves, for companies this means to scale up via tech and have a collaborative and global perspective, her clear vision to influence the curriculum of our educational system to prepare the future generations with the right knowledge and mindsets is remarkable. Because of all of this, we deeply love and respect Gyselle and consider her one the 250 Influencers on the island, representing the Business (Innovation) sector.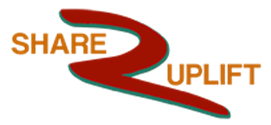 The goal of the core group of Share2Uplift for 2020
The goal of the Share2Uplift movement is to: "Identify 250 leaders from all walks of life to connect, align and create impactful changes in all walks of life, which includes intergenerational collaboration by the end of 2020." We will use interviewing Influencers, meet-and-greet events, "train-the-trainers"-programs on "Emotional Mastery" and "Intentionality "as national intervention strategies, to reach this goal on top of our goal to scale up the possibilities to connect, align and create impact via a virtual platform. We believe that with collaborating with Miguel Goede on the virtual Vision 2030 platform, we will accelerate the possibilities to connect the diaspora and others elsewhere in the world and on the island willing to constructively create impactful changes in Curaçao, to join.Look at the list of the Influencers we have interviewed or reported on, up to now.

As Share2Uplift we are fully trying to align with this thinking of Center for Curriculum Redesign to promote this agenda in our educational systems and workplace. So, in that sense we fully support any initiative to make our educational system 21st century proof.
Share2Uplift aligners are those that:
– Create an inspiring vision of the future;
– Motivate and inspire people to engage with that vision;
– Manage delivery of the vision;
– Coach and built a team, so that it is more effective at achieving the vision.
These criteria are now being polished.
We also consider these 5 values of the most important ones for Share2Uplift aligners. They are:
• Peace from within;
• Compassion;
• Respectfulness;
• Integrity;
• Responsibility. As we will progress towards this goal we will update you on the progress.
Visit the website for more information.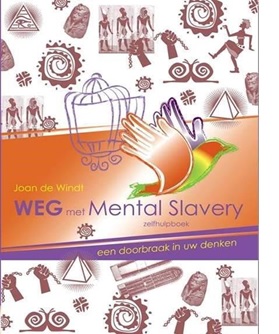 Our next MYM-platform session in July via Skype
Our next MYM-platform session will be on the 21st of July (the 3rd Tuesday of the month) via Skype, where we will present "Weg met Mental Slavery, zelfhulpboek een doorbraak in uw denken", by Joan de Windt.
Joan: "..The book is meant to make the truth known about history, which they taught us in school. There, we were mainly learned that our ancestors were slaves, taken from a poor continent where everybody was sick and hungry or at war. We were not told that Africa possessed a wealthy kingdom with people that were highly skilled in art, education, industry, etc. Knowledge is power, free yourself from mental slavery.."
Joan graduated from the School for Journalism in Utrecht, and worked for more than 25 years as an editor for around seven different public service broadcasters. In her free time, she completed her propaedeutic year in Law at the UvA and followed a social psychological training (SPSO) in Utrecht. She has given the workshop "WEG with mental slavery" many times. At the request of many, she also developed the "WEG with micro-aggressions" workshop, which is intended for everyone who want to live in harmony and work together without racism and afrophobia, and the many other ways in which Afros are excluded as the so-called "Other". Joan: "Dit is het eerste en enige zelfhulpboek voor mensen die afstammen van de tot slaaf gemaakte afrikanen, in het Nederlands taalgebied.".
Subscribe by sending us an email sixtaivan@gmail.com or ivan@upliftingCuraçao.com and we will send you the Skype link so that you can participate in our presentation of this book.
Time: 7.30 – 8.45 pm.
Entrance fee: Free
Presenter: Ivan Kuster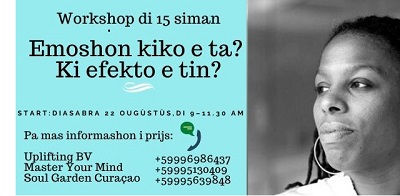 Starting August: New workshop in Papiamentu on Emotions
Gran majoría di nos komo ser humano, ta pasando diariamente den un fluho konstante di diferente pensamentu i emoshonan. Esaki ta konta mas aún awor ku nos ta den e gara di COVID-19. Emoshon ta nos kompas interno. No tin emoshon malu ni bon, emoshonan tei pa guía. Nos tin ku atende ku nan i no neglishá, reprimí ni suprimí nan, pa nan no kausa efektonan negativo despues ku ta inesperá. Emoshonan por ta un insentivo pa nos desarojá e potenshal inlimitá ku kada un di nos tin komo persona.

Nos ke yudabo den desarojá esaki, dor di ofresé bo un "personal journey" di 15 siman. Den e 15 simananan aki nos lo sinjabo:
• maestría di bo emoshonan;
• kon di deshasí di emoshonan atrapá;
• biba un bida mas intenshonalmente;
• skucha bo intuishon mas mihó pa asina bo por ta mas kreativo i
• kon di laga loke bo a sinja bira un kustumber i transformabo komo persona.
Nos lo kuminsá riba diasabra 22 di Ougùstùs di 9 – 11.30 pm.

Pa mas informashon i detajes di e suma ku ta kobra, tuma kontako ku un di e 3 fasilitadornan:
Haydee Hermans Soul Garden na telefón: 5639848
E-mail: soulgardenCuraçao@gmail.com
O'dennis Daal Master Your Mind na telefón: 5130409
E-mail: odennis.daal@mymcur.com
Ivan Kuster Uplifting BV na telefón: 6986437
E-mail: ivan@upliftingCuraçao.com
Website: www.upliftingCuraçao.com/workshop-emoshon-kiko-e-ta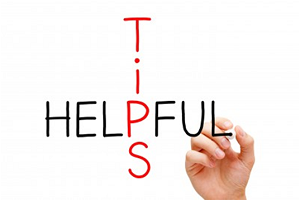 Personal Coaching tip
This week we will share some motivational videos. This week we will share some on the 4th Industrial revolution. Every day in the week we will upload one of these video-links on our Fabebook.com/share2uplift page.
What is the Fourth Industrial Revolution? | CNBC Explains - YouTube
www.youtube.com/watch?v=v9rZOa3CUC8


The 4th Industrial Revolution and Standards - YouTube
www.youtube.com/watch?v=FIwLtYIoPDg

World Economic Forum | Centre for the Fourth Industrial Revolution Network - YouTube
www.youtube.com/watch?v=d0DMFadnioo

Globalization 4.0 - YouTube
www.youtube.com/watch?v=vORRyZQDR8Y

The World Economic Forum Founder Shares The Biggest Threat To The Economy - YouTube
www.youtube.com/watch?v=vlPHamvvNf8

What is fintech? | CNBC Explains - YouTube
www.youtube.com/watch?v=-EoNrg_DR3s
Categories: Influencers, 21st Century Mindsets, Share2Uplift