| | |
| --- | --- |
| Posted on April 27, 2020 at 2:00 AM | |
In this week's blog (27th of April – May 3rd ) we will interview Rudolf de Wit; we will invite you to the 6th and also last webinar "Práktika, evolushon emoshonal" for the moment of Carlo Monsanto on Tuesday 28th of April from 2 – 3 pm; we will invite you for our next MasterYourMind-book presentation platform on the 19th of May via skype, presenting the book "A New Earth", by author Eckart Tolle and we will share with you our usual motivational video links this week on "impact". Every day during the week we will upload one of these videos on our Facebook page.


Influencer Rudolf de Wit: Caring, truthful, courageous and straight forward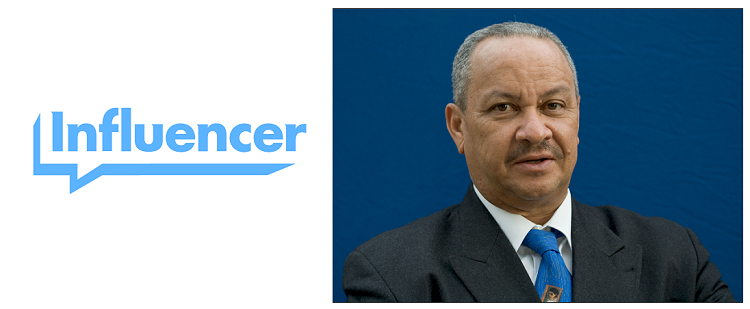 Would you share with us some information of your family life?
I was born here in Curaçao. My mother died when she was 47 years old and that was tough back then, it has impacted me very much. My father has passed away when he was 65 years old. I am now 66 years old and I feel blessed that I am now older than they were, when they passed away. I come from a family of 3 sisters and 3 brothers of which one brother tragically passed away 22 years ago. I use to find it difficult to talk about my age, although my heart and soul are as young as they can be, but nowadays with the lock down, going to the supermarket, it has its advantages as the rows for the elderly are shorter, ha, ha, ha...
I am not married and proud of lots of stepchildren (in Papiamentu: "Yu sin doló" and children from my siblings, that I helped raised and played an important role in their lives. Proud on two accounts, as they have grown to become respected citizens and they still give me lots of love. It feels great to have played and still play a meaningful role in the lives of lots of people.
We got your name from Carlo Monsanto, he suggested me to also to interview you. We have known you as the director of INOMA. Do you also apply IoLee?
Well, I know Carlo well, but I am not a practitioner of IoLee (Inside Out Learning Experience Framework). I am however, learning to master IoLee more and more as it is very interesting what he is doing and it fits in what I am doing. I always look at the mental and physical side of clients, as lots of the physical discomforts that people experience have their origins in mental issues.
Could you share with us some of your educational background and past professional experiences?
I am a physical therapist, but as I was in my final year of my studies, I was dissatisfied with the outcome of my efforts as a physical therapist in training. Something very strange happened as I was treating a patient that had a shoulder problem and after three months of treatment, I went back to my mentor to report about the treatment the patient received, as I was still a trainee. The mentor asked me if I had followed the instructions and I said that I have done everything "according to the books", but the patient's shoulder discomfort wasn't cured. Then I saw my mentor manipulating the neck of the patient and treated her with acupuncture in her ear and within less than a minute the patient could move her arm freely. I was flabbergasted and fascinated. What surprised me even more was, that my mentor requested me not to mention this in my report of my training period because acupuncture was not accepted as a valid treatment at the time (1977). Bear in mind that it was only three years after 1974 when the ties between China and the West were normalized and acupuncture became accessible in the western part of the world.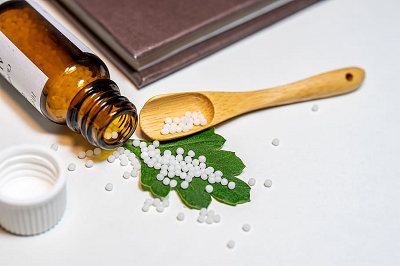 When I went back to Curaçao in 1978, I started to experience again the limits of conventional treatments of patients. Natural medicine, acupuncture, homeopathy and herbal medicine where unknown therapies in Curaçao at the time. Talking about those therapies was weird. A friend of mine, Dr. Roy Martina, asked me to come back to Holland to study natural medicine. So I went back to Holland in 1980 to initiate the studies. I became happier everyday as I was really able to help people as a total new world opened for me.
After finishing my studies in Holland in 1982, I went back to Curaçao. An investigative journalist, the late Chacho de Castro, who was very curious and interested in acupuncture came to my office one day to make a video of me treating a patient with acupuncture. Coincidentally it was a patient with the same complaints as the one I experienced when I saw the first acupuncture treatment. I followed the same procedure: manipulated her neck and inserted a golden needle in her ear; within twenty seconds her complaints were gone and she could raise her arm again.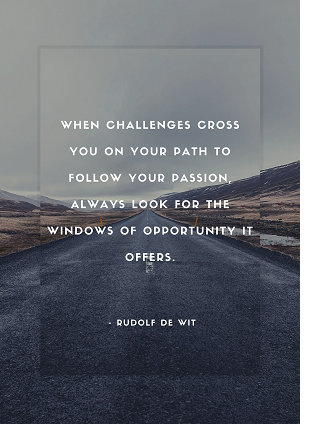 During the years gone by I have learned some important lessons: "..when challenges cross you on your path to follow your passion, always look for the windows of opportunity it offers. Don't let anything stop you, 'jump" in to it and make use of the opportunity, as you might not get a second chance..".
After the first year of my natural medicine and acupuncture studies in Holland, I felt like it was going too slow for me, so I approached the program director Dr. Paul Gill and asked him if I could do the two following years in one year. He agreed after some hesitation, as long as I complied with some requirements like finalizing my second year completely. I felt blessed and honored to be given that opportunity. In 2000 after I had closed INOMA, I was approached by the Anglo-Dutch College for Acupuncture at 'Kasteel Duinlust' in Bloemendaal, Holland, to become the director of the institute. One day at Kasteel Duinlust when going through some paperwork now as director, I encountered a note by Dr. Gill. The note was written at the time of my studies, applauding the two years I did in one. As you can imagine I felt very honored and glad, that I jumped and grabbed that opportunity.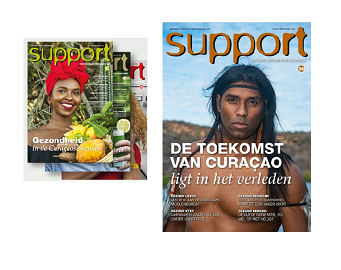 In 2002 I went back to Curaçao and started "Klinika De Wit". I quickly realized, that there was lack of information on natural medicine and wellbeing. This resulted in me starting the magazine "Support" and also the radio program at "Radio Korsou" called "Bida i un tiki mas". My main goal was to teach people to take responsibility of their own health. Eventually the radio program 'Bida I un tiki mas' evolved into what is now called 'R-Support' at Radio Hoyer. We are now in our 15th year. In 2008 I closed 'Klinika De Wit', continued with the magazine Support, R-Support and also started my weekly TV program 'Dos Mundu Diferente'. Over the years, I have also launched different websites, Support voor het leven, Support pa Bida, PIAI Retreats and Creation, to share information on wellbeing. In the next few months I will be launching a brand new representing a concept that will fit in precisely into the changes that we are going through now in 2020.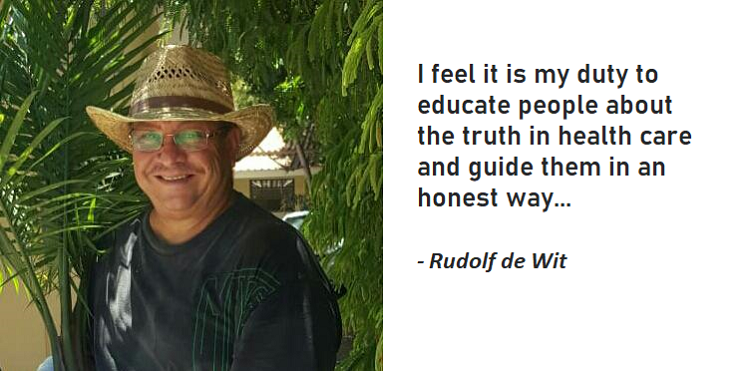 As you have studied and applied non-traditional therapies in your career and furthermore you have been an activist against Fluoride in our drinking water and you have been very focal, not following the traditional path as a physical therapist, where does this drive come from? What is your BIG WHY or driving motivation to be who you are right now?
I feel it is my duty to educate people about the truth in health care and guide them in an honest way. That is my drive. And that is why I have so much difficulty accepting the lies from the traditional health sector and science at times. Speaking out the truth is not always been easy and difficult for people to accept. Even politicians and also colleagues approached me and asked me to stop spreading 'my' truth. Fluoride in our drinking water was one of the issues that caught my attention, but before that there was also the use of the insecticides Malathion and Permethrine. Nowadays glyphosate (a popular weed killer), GMO (Genetically Modified Organisms) products and chemical additives in our food with proven side effects that will reflect in generations to come. They are just a few of my main concerns.
What is your companies name or do you have a local institute where you now practice?
Support is the main company, but soon I will launch a new brand called 'Reset Life'. Stay tuned. This will offer the opportunity to everybody to reset their life. It will be a mental and physical holistic approach with great benefits for one's wellbeing.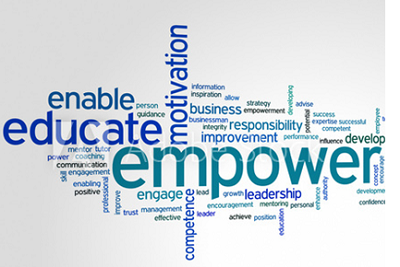 Where do you want to be let us say 5 years from now in your business and on the personal level?
Business and personal level I actually see as one. I probably will still be teaching people how to take care of themselves and others to live a healthy life. I see myself spending more time surrounded by nature, working in my greenhouse which I truly enjoy and spending valuable time with loved ones.
What are the challenges that you are dealing with? And how are you dealing with these different challenges you confront?
I don't see obstacles; I always look for the opportunities and solutions as they show up during my journey in life. At times challenges might seem very tough at the beginning, but when you change your mindset and try to understand the meaning or reason why certain things happen, you can change a negative into a positive and count it as a blessing.
Do you use your inner voice to evaluate when dilemma's show up? How does that work for you?
Moments of silence are very important to me, that's when I listen to my inner voice. Meditation helps a lot.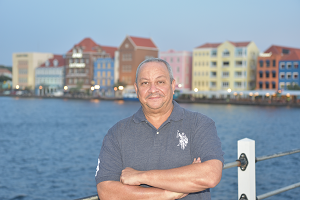 How are you trying also to keep up with your personal knowledge and skills levels?
I read and scan the internet a lot. Not only news from the main stream media but also –what we too often label as- conspiracy theories. I always dig deeper and look for the hidden messages.
What are your strengths?
I am a good listener. I always keep in mind, that there is a reason for everything. I respect other people's opinions without judgement. But (with a smile on his face) I have to admit, at times I also fail; then I admit to that person that I have learned a new lesson.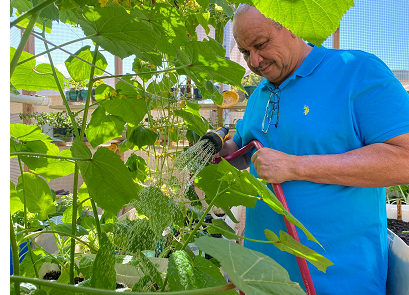 Do you have hobbies or interests that you are also passionate about?
I am addicted to spinning in the gym; I am passionate about gardening, working in my green house.
I am fascinated by the art of body language, facial diagnosis, subliminal language of the body and the technique of Reverse Speech.
If you as Rudolf would meet a stranger in the bus (let say in Holland or the US) and they would ask you to introduce yourself what would you answer?
I would mention my name, never my formal titles because it's not the title that makes who I am, but it's the impression that I leave behind. If somebody feels that they would like to know me better, then we can sit down for a talk.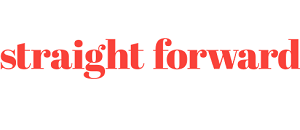 How would you describe Rudolf in one word or one sentence?
Caring, truthful, courageous, honest and straight forward.
Whom are the persons that have inspired you the most in your career?
I can name four people: my friend Dr. Roy Martina for being the one who introduced me to natural medicine forty years ago.
Dr. Douglas Pinedo, for being there during challenging moments at the beginning of my career;
Dinah Veeris for her knowledge and preserving the local herbal medicine and an inspiring new star on the horizon of Curaçao, Miles Mercera the CEO of CHATA.
What is a trait that is still work in progress?
It might sound arrogant, but I am happy as I am right now.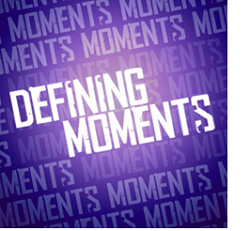 What was a defining moment in your life?
There are four defining moments in my life:
• When my mother passed away;
• When I met my partner/soulmate of my life;
• When I experienced for the first time the birth of a baby;
• Experiencing the solar eclipse in Curaçao, as I realized the magnitude and force of the universe.
What would you want your Loved Ones, family, friends and others to say about you let's say 15 years from now?
"He did it as promised"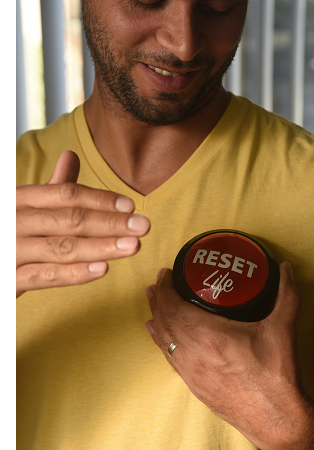 We are shot down now because of the presence of the Corona virus in Curaçao. What makes you stay optimistic about the future of Curaçao and humanity in general?
I am excited about the post Corona-era to come. There are changes coming up and that is the reason why my newest brand will be called "Reset Life". I consider this an immensely great opportunity for the whole world to change our modus operandi completely. What is going to happen is OK, mother Earth will have a chance to recuperate. More and more people are becoming aware of the reason why all of this is happening, as they are becoming aware that they are part of a bigger picture. We are all responsible for what we have done to this planet. Mother Earth demands and deserves a change.
Is there anything else that you would like to add?
This has been the nicest interview I have ever had in 40 years or so, as I opened my heart and told my story as it is.
More info on Rudolf E. de Wit
Tel.: +5999 667-7258
rudolf.de.wit@gmail.com
www.support.cw
www.piairetreats.com
www.rudolfdewit.com
Facebook: Rudolf E. de Wit

On YouTube
www.youtube.com/watch?v=6N4Ph8gWNHE
www.youtube.com/watch?v=HLTpKfakXEM
www.youtube.com/watch?v=VwAIQuaqfCk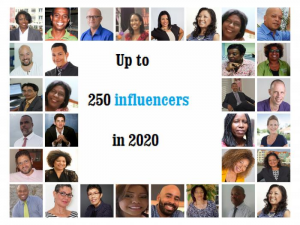 Rudolf de Wit is one of the first practitioners of natural medicine and acupuncture in Curaçao early on in his career, which made him a game changer early on in this area. Later he became better known as an avid advocate against the reckless use of insecticides like Malathion, Permethrine, Glyphosate (a popular weed killer), but also an advocate against GMO (Genetically Modified Organisms) products, chemical additives in our food and fluoride in our drinking water in Curaçao. For the past 15 years Rudolf has been very active in informing and educating the greater public via different outlets like the magazine "Support", the radio program at "Radio Korsou" called "Bida i un tiki mas", now called "R-Support", the TV program 'Dos Mundu Diferente' and different websites, like Support voor het leven, Support pa Bida, PIAI Retreats and Creation, sharing information on wellbeing and all of this with the main goal to teach people to take responsibility of their own health into their own hands. As a loving and caring person for his Loved Ones, friends and humanity in general, his seemly boundless energy Rudolf has been a lifelong learner. He loves working in his garden and greenhouse, but he also scans the internet, he is passionate about the art of body language, facial diagnosis, subliminal language of the body and the technique of Reverse Speech.
Over the years Rudolf has never slowed down in his efforts to inform people and is now clearly excited about the planned launching in the next few months of a new brand: "Reset Life", representing a concept that will fit in precisely into the changes that we are going through now in 2020, changes accelerated by the corona -virus. Rudolf's drive, his caring, honesty and courage during his whole career, has and still is definitely influencing a great number of people in Curaçao. We deeply love and respect Rudolf and definitely consider him one of the 250 Influencers in Curaçao, representing the Health & Wellbeing sector.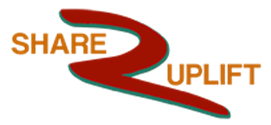 The goal of the core group of Share2Uplift for 2020
The goal of the Share2Uplift movement is to: "Identify 250 leaders from all walks of life to connect, align and create impactful changes in all walks of life, which includes intergenerational collaboration by the end of 2020." We will use interviewing Influencers, meet-and-greet events, "train-the-trainers"-programs on "Emotional Mastery" and "Intentionality "as national intervention strategies, to reach this goal on top of our goal to scale up the possibilities to connect, align and create impact via a virtual platform. We believe that with collaborating with Miguel Goede on the virtual Vison 2030 platform, we will accelerate the possibilities to connect the diaspora and others elsewhere in the world and on the island willing to constructively create impactful changes in Curaçao, to join. Look at the list of the Influencers we have interviewed or reported on, up to now.

As Share2Uplift we are fully trying to align with this thinking of Center for Curriculum Redesign to promote this agenda in our educational systems and workplace. So, in that sense we fully support any initiative to make our educational system 21st century proof.
Share2Uplift aligners are those that:
– Create an inspiring vision of the future;
– Motivate and inspire people to engage with that vision;
– Manage delivery of the vision;
– Coach and built a team, so that it is more effective at achieving the vision.
These criteria are now being polished.
We also consider these 5 values of the most important ones for Share2Uplift aligners. They are:
• Peace from within;
• Compassion;
• Respectfulness;
• Integrity;
• Responsibility. As we will progress towards this goal we will update you on the progress.
Visit the website for more information.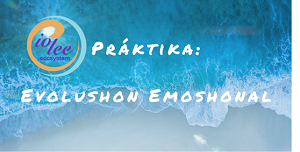 Free Webinars
The sixtl and last webinar on the 28st of April offered by Carlo Monsanto, titled: "Práktika, evolushon emoshonal".
Time: 2 - 3 pm local time in Curaçao or EDT (US).
Charges: Free
Language: Papiamentu

Join Zoom Meeting
zoom.us/j/338318044
Meeting ID: 338 318 044
E-mail: carlo.monsanto@iolee.life
Website: www.iolee.life
This is the sixth and for the moment last of a series of 6 webinars that Carlo will be offering on the Inside Out Learning Framework (IoLee) on-line and Uplifting BV will co-facilitate this webinar. This webinar will be directed especially towards those working in the educational sector, but all others that are interested, are most welcome. In this webinar Carlo will further expand on the experiential learning and practice of IoLee.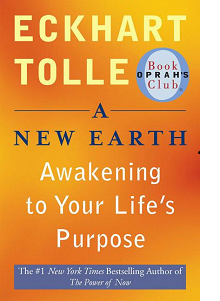 Our next MYM-platform session in May  via Skype
We would like to invite you to our next free MYM-platform session via Skype on Tuesday, the 19th of May (3rd Tuesday of the month), where we will present "A New Earth", by Eckart Tolle.
"A wake-up call for the entire planet . . . [A New Earth] helps us to stop creating our own suffering and obsessing over the past and what the future might be, and to put ourselves in the now." —Oprah Winfrey
With his bestselling spiritual guide The Power of Now, Eckhart Tolle inspired millions of readers to discover the freedom and joy of a life lived "in the now." In A New Earth, Tolle expands on these powerful ideas to show how transcending our ego-based state of consciousness is not only essential to personal happiness, but also the key to ending conflict and suffering throughout the world. Tolle describes how our attachment to the ego creates the dysfunction that leads to anger, jealousy, and unhappiness, and shows readers how to awaken to a new state of consciousness and follow the path to a truly fulfilling existence.
Subscribe by sending us an email sixtaivan@gmail.com or ivan@upliftingCuraçao.com and we will send you the Skype link so that you can participate in our presentation of this book
Time: 7.30 – 8.45 pm.
Entrance fee: Free
Presenter: Ivan Kuster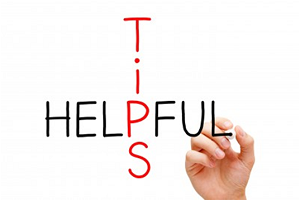 Personal Coaching tip
This week we will share some motivational videos related to "impact". Every day in the week we will upload one of these video-links on our Fabebook.com/share2uplift page.

Make An Impact - Inspirational Video - YouTube
www.youtube.com/watch?vb7_YJp9bVA
How You Treat People Is Who You Are! (Kindness Motivational Video) - YouTube
www.youtube.com/watch?v=mTsvSAItPqA


Oprah Winfrey Interview - Best of Oprah Winfrey - 1 Minute Motivation - YouTube
www.youtube.com/watch?v=KC27UERRQwU


"Stop Telling Your Big Dreams to Small-Minded People" | Oprah's Life Class | Oprah Winfrey Network - YouTube
www.youtube.com/watch?v=0e_8-iIjhb0


Dr. Maya Angelou: "Be a Rainbow in Someone Else's Cloud" | Oprah's Master Class | OWN - YouTube
www.youtube.com/watch?v=0nYXFletWH4
 
How to Achieve Your Dreams | Denzel Washington - YouTube
www.youtube.com/watch?v=1Htrk9uGM-g


Categories: Influencers, Webinars, Master your mind - Bookclub sessions