| | |
| --- | --- |
| Posted on May 20, 2019 at 4:25 AM | |
In this week's blog (20th – 26th of May) we will interview Anuschka Cova, we will invite you for the upcoming Master Your Mind platform session at Mensing's Caminada on Tuesday the 21st of May; we invite you for a workshop on the 11th of June "The power of Intention" at Mensing's Caminada and we will share with you some video-links as personal coaching tips based on "what is holding you back?". Every day we will upload one of these links on our Facebook.com/share2uplift page.

Influencer Anuschka Cova: ambassador of change




Anuschka, could you share with us some information of your family life?
I am married and have 4 children: 3 of my own and a bonus child from my husband's earlier marriage. I have 2 sisters and my parents are both still alive and they have been critically supportive.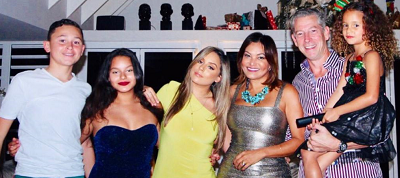 Could you share with us some of your educational background and past professional experiences?
I started my career at MeesPierson for a short period and then went to work for 20 years at CITCO. I have a Masters degree at the University of Miami in International Finance and Marketing. I left to work and live in Holland to have an international career and ended up as a Managing Director of an International Company at the age of 29 years old as a woman. There were very few women in this male dominated world and I was a " Yu di Korsou" which was also unique. Before I was appointed Managing Director, I had to do different assessements, role plays and psychological tests during a 3 days period. These tests were excellent. I did well as I became to know myself very well and I got the appointment as Managing Director. I now knew my strengths and knew where I needed to improve myself or be aware of. I was "a natural leader" according to these tests. If, I would have been appointed without this knowledge of myself, I might have had my self-doubts, that might have haunted me.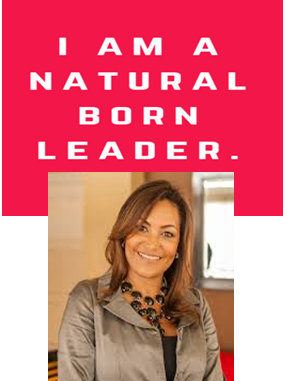 The one that suggested you to become the managing director must have had an eye for talent, right?
Yes, he did his name was Tony Stocks and he was the division director and global director of CITCO. He hired and promoted me against the flow because of his unconditional respect for my abilities, first as a fund accountant, then as an operations manager, then as a senior manager. But I was also very pro-active because very soon in my career, I approached him and asked him what would be my possible next steps in my career. He smiled when I first aproached him and he told me to "lead people and learn how to do this well and then come back." As I climbed through the ranks, I told him after a while, that I wanted to do marketing, that doing the work as an accountant was nice, but that I longed to do marketing as I have studied marketing. He decided to take me with him to a next marketing conference in Geneve, to offer me the opportunity to experience how it works. In this male dominated world where there were few woman, I managed to get invited to a HSBC cocktail party where Mr. Stocks was never invited to in 10 years that he was involved in this line of work. At first he said: "That is impossible", he was surprised and then he asked me: "Could I come with you." and we went.

How do you explain your success in your career?
This is because I don't take "no" for an answer and because of who I am. "I am, who I am." I belief in what I do, in my emotional Intelligence and inter-personal intelligence. I was never intimidated by money. Hedge funds start at a minimum of one million and they can go up to billions. I easily said "WOW" to Hedge Fund managers and they called me the WOW-lady as this was part of my acquistion strategy, but I was interested in Hedge funds that fitted our company profile. But foremost, I was respected for my profesional skills and in Holland I became an operational and marketing manager as well. And this was an unique combination.

During the 9 years I was the operational and marketing manager, we grew 30 to 35 % per year. So, my bosses said "Whatever you are doing, keep doing it." But bear in mind, one small mistake can ruin everything. So we needed to grow and consolidate and the only way to do this was via a team effort. I met my managers every monday to take up the pending issues and which we solved as a team. You can't do anything without a team effort, so I dedicated lots of attention to keeping my staff motivated, with bonus sharing, jointly going on ski vacations, visiting "de Ardennen", and this team spirit and motivation was shown when they had to work on a take over, till 11 – 12 pm during a stretch of time, which they did without complaining. At the end of the year's speech I was called: "a warrior director." I don't take "no" for an answer.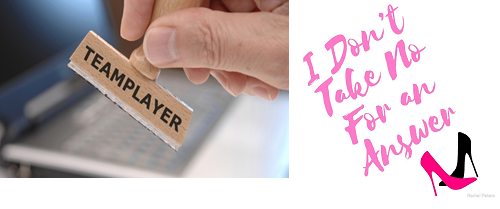 But after 9 years, the company's focus went to America and I was one of the first ones, that wanted to go to America. That was a big challenge and from New York we build up our business in Canada. One story comes to mind of how succesful we were in spite of the challenges of working Wall Street New York. To grow, our acquistion and sales strategy was very important. I expressed interest in a billion dollar company. And they told me at the office: "Don't keep your hopes up, it will never happen."

Well, if you have self confidence, belief in what you are doing and you have a good product that can excell, because the world is the global market, then you can't fail. We went to a compliance meeting and I asked a contact person from this company, btw, I wanted to talk about our services and this was conceded for 10 minutes and we ended up talking over 30 minutes. We started with 1 million as a trial and we ended up with 100 million in a serious relationship and this stayed for ever. That gave me a lot of satisfaction. So, I don't shy away from a challenge and this has been the red line during my career that was extremely succesfull, with lot of freedom for which I was very well paid.

We became interested in interviewing you, as we have noticed that your chaired the CIFA as the grandfather clauses based on Tax Treaties of the past era came to an end, the sector was increasingly under pressure to re-invent self. Can you share with us, how you are now involved in the further development of the financial sector.
We were aware that the old offshore didn't work anymore, but we were confronted with an increasing pressure, that was put on compliance via FATCA, CRS, FATF and OECD. This international pressure, unfortunately dictated our focus on compliance to stay on clean lists and this required lots of work. I belief in private public partnerships.

We had to find a way to collaborate with the parliament of Curaçao and this was not easy, we were not "agile" enough compared to what was required internationally. But we were willing to do what ever it took, so we wrote the draft-laws without charging any money, we once went to the parliament and spent 6 hours explaining to the members of parliament what was the subject matter "the harmonization law" and three members of our delegation got wheel locks for their parking, as we didn't expect that it would take that long.

With regards to me chairing CIFA, according to the articles of law of CIFA the tenure stands at 4 years, but I was asked by different stakeholders like Ministers and CBCS to stay longer because of the pending complex issues that we had to work on in close collaboration with government. We even changed the articles of law to extend my tenure. As of March of this year Nasha de Jesus is the new chairperson of CIFA. If you specifically ask me, if we have developed new products I would say we opened up possibilities of products that already existed elsewhere, that is not a real innovation, there is though one new thing that is the unique opportunity we offer to "sell block chain technology" as a jurisdiction.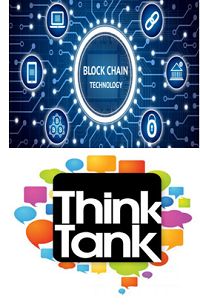 In fact spending that much needed time to comply with the new compliance requirements affected our ability to innovate. Being in a so-called survival mode is not condusive for being in a creative mode. But we shouldn't focus on tax, we have to choose for diversity. That is why we created a ThinkTank called "Fliptank Curaçao" anticipating the effects of disruptive technology. We explore ideas, like selling parcels and enabling the creation of value in legal zones, artificial intelligence and if even 1 out of the 10 new ideas will be picked up, it will be worth the effort and this drives me now. This "FlipTank Curaçao" is not related to the Growth Strategy of the government of Curaçao. Following the "FlipTank Curaçao" 10 to 20 years from now it will have an impact. Thta is why there will also be a shark tank just behind this, to really invest in these new ideas. And as our bank system is not organized to venture in risky investments, we need to find new ways to fund creative ideas in Curaçao. Where we will supervise the whole entrepreneurial route from an idea via the "Think Tank" to business plan and financial supervision until these entrepreneurs can walk all by them selves. What is offered now as funding opportunities are so small compared to our real potential.

I am following a course in International Relationships. Why? Because I have experienced the public sector and I have experienced an "inside the box" mentality many times. I want the government to become a forward thinking organization where people would love to be at their work and feel that because of their input, the organization has improved. I want to offer coaching and be in a consultancy role, to enable those in charge to change their mindsets and think differently because the bureaucratic mindset is not going to be the solution for our future challenges anymore. I have a 22 years old daughter, whom has 2 bachelors degrees and is doing her masters. She told me: "I am going to succeed."

These millenials are going to move the world according to Darren Hardy, a motivational speaker and entrepreneur, who was here at the invitation of CIFA and UTS. He told us, that because there are so many of these millenials, we have to follow what they do. Because they will change the world.
I personally love to be challenged in a group intellectually. I am triggered by that. We need to look at other islands or countries of comparable size and with the same type of economy and see how they deal with their challenges and don't look at countries that because of their size can't be used to compare. As we do this, we need to let our people better understand certain things. It is then when we will really progress and we will have to include politicians in this to make it an inclusive approach.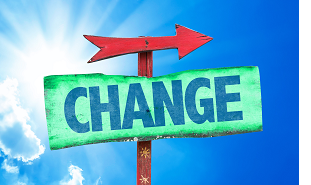 How does the future of the Financial sector look like, what are our unique selling points and do you foresee opportuniites that we should pursue?
"Tax" is a "no go" and old school. What is unique is our knowledge and experience over lots of years, we have the right infrastructure and a mature banking system, we have experienced lawyers and we have a legal system that ends on the high court level in Holland and that is a big plus. Geographically we are well located and we speak English, Spanish and Dutch. I have worked with call centers in India and it took us lots of energy to explain everything and in comparison with here, we quickly understand the essence combined with the languages that we speak. That makes us unique. What we need to iunderstand is, that we have to change. We are to "rooted" to our chairs and the world is changing quickly and if we don't change, we will become obsolete.

You know, my husband is an entrepreneur, a private equity investor and as entrepreneurs they look at things totally different. They accept that change is ineviitable and they are very self confident. Succesful people are always open to listen to someone expressing a different perspective. He has a track record, has invested privately and now through private equity. That is why, I went to one of the most difficult course I ever followed at the HarvardBusiness School, Finance for Senior Executives. To be allowed to follow the course, one should have at least 15 years experience and we should prepare and study 20 to 25 case-studies. A week before I went to the course I started working on the first case study with my husband and a CPA-er. I was 26 years old. We started at 6 pm and finished at 2 am and this was only the first case studies. So after that I started to work relentlessly on the rest of the case stutides. What do they teach you? Look at the whole of a company and everything is relative. In one case study a CEO was being fired and paid USD 800 million. The question was, was it right or wrong. And my gut told me after studying the whole case and discussing this with my husband that it made sense. Even though I was the only one in the class that held that opion, I kept my ground as I also doubted this at times seriously. In the end it turned out to be the right position to take. What did that teach me, that no matter if you stand alone, if you think it is right, hold your ground. If you belief in your values, you have to stand alone at times. I firmly belief that Curaçao has to explore and invest in the unknown to re-invent itself and I believe we have all the right ingredients to be succesful in this.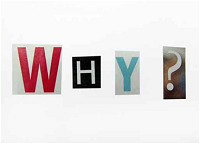 What is your BIG WHY or driving motivation to be whom you are right now?
I want to be significant in the world. In the past, I wanted a master's degree; a successful career; leadership positions in an International Company; I wanted to be the Chairperson of CIFA and I wanted to be able to earn enough money. I got those. Now my world is Curaçao and my children and I want to be able to bring about a change in at least one person and that all children in Curaçao that go to school don't go to school with an empty stomach.
When I discovered how many children were going to school on an empty stomach, I cried and couldn't sleep for days. I felt guilty and I turned that into an opportunity, as we collected money 6 to 7 hundred thousand guilders, to finance the food program via the foundation "Tur mucha mester kome". Now this has given me so much satisfaction, as we are doing this by pooling resources together and this drives me to make more changes for the better.

What are the challenges that you are dealing with? And how are you dealing with these different challenges you confront?
Dealing with people that don't want to change, is a big challenge. When we were young at school we had fights at times during the pauses and I thought when we grow up, this will stop or become less. Now at this day and age we still have to deal with those whom don't want to change and this I consider energy that is wasted. We could have better use this energy towards positive purposes. Now I know we have to deal with this, as it comes with the territory. In the big companies in the private sector there is also politics in play and if you don't fight you will not survive. So this the hard reality and I have come to consider it as a necessary evil.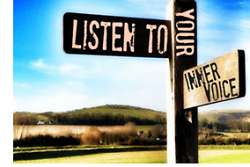 Do you use your inner voice to evaluate when dilemma's show up? How does that work for you?
I always use my inner voice. It shows in different ways. I am a positive and well balanced person and I can manage myself well, to very well. But at times my reptilian brain can be triggered when I see and experience inequality and unfairness. I prepare myself very well for meetings and I am not the person that will stay silence when I have noticed that others didn't prepare well, but have all sorts of opinions. I would pro-actively say something about this and asked them to come back, after they have done their homework.

How are you trying also to keep up with your personal skills? Do you like reading books, follow courses, practice a lot and like investing in networks and people that might help you further your knowledge and skills level.
Yes, I do that alot and continuously. I am following right now a minor in Psychology of Executive Behavioral Management. This second module deals with executives and managers whom are stuck, whom have been very succesfull and can't deal with all the changes underway and often don't trust anyone, so they become very isolated. I know a lot of those executives and I hope to be able to help these CFO's and CEO's to get unstuck.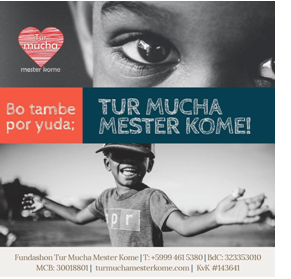 What are your other strengths apart from your apparent leadership skills?
I am empathic, I belief in a team effort and in collaboration most of the time, but at times when the things need to be done, I can also go after the results.
Do you have hobbies or interests that you are also passionate about?
I am involved in charity in the foundation and this is my passion: "
Tur mucha mester kome
". We had analysed how many children go to school without having a meal or only have one meal a day. This is 4 % on average on all schools, which can even include Radulphus College btw. Getting to know these facts was for me heart breaking and this triggered me. We approached the schoolboards and identified these children discretely via their teachers. Our aim is to offer them three meals a day which would include holidays and the week-ends. We collaborate where possible for example with Lions Service club, which offers breakfast and we would then offer these childen their lunch meal.
I would also like to positively influence the mindsets of women by enabling their empowerment so that they can gain equal footing in our society. It is a pity, but there is no equality. The necessity to enable changed mindsets is something very important.
If you as Anuschka Cova, would meet a stranger in the bus (let say in Holland or the US) and they would ask you to introduce yourself what would you answer?
A mother, a wife and a friend.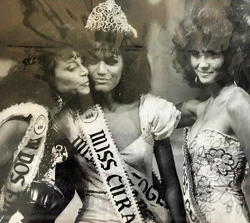 How would you describe Anuschka in one word or one sentence?
I am who I am. I am an ambassador of change. I have always have to fight prejudices like: "I was a model and former Miss Curaçao, so I don't have the brains to earn a masters degree; In my professional career, I was a woman in a men's world, so I had to prove them wrong that I had skills and abilities at least equal to what they have ..etc.....I has always been there these prejudices and I have always have to fight against them.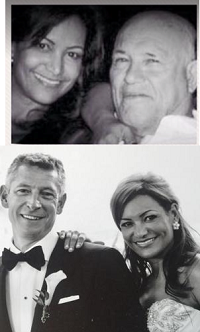 Whom are the persons that have inspired you the most in your career?
First and foremost my father. If he went to a courtcase for example, he would start by saying "hermanos". I asked him why he called everyone a "hermano". He told me because we are all equal. There is no divide. This also meant that no matter what your achievements always treat human beings with great respect and stay with both feeth on the ground. And this was a lesson I never forgot.
My children because they always offer me a new perspective. I pride myself to always look at things from different angles. But you know, my children even the youngest one can offer me an angle that I didn't think about myself and they are a daily source of inspiration to me.
My husband because of his ability to always look at things from the bright side and expecting that everything will turn out to be all right, triggering me at times to ask him how come you are so sure about that.
And professionally a lot of people, but one stands out and that was a lady that was Manager of a huge Hedge Fund in Wall Street. She was very assertive and invested a lot in her own personal development like in meditation, coaching and in a world as Wall Street is, that was at times so hectic she kept her calm completely. I have experience the worst of the worst in Wall Street and I was in awe of how she kept her calm. This is my role model, I want to emulate her.
What are some of the challenges, lessons learned, that you have encountered in your life when you ultimately discovered your talents and strenghts?
Of course the period I went through my psychological tests as I mentioned before was one, where I became very aware of my strenghts career wise and the second defining moment was when my father got a heart attack and I decided to come and live back in Curaçao. On my way back in the airplane I reflected on the important things in life and ended up concluding that it was not my career, but my Loved ones. I decided to chose for people and not my career.
Where do you want to be 15 to 20 years from now with your career?
I want to do what I love to do, where I want to and when I want to, in the environment I chose to live in and make the changes that I want to make ....basically that is the definition of having a fulfilled life.
What would you want your Loved Ones, family, friends and others to say about you let's say 25 years years from now?
That they have learned something from me and that I have inspired them and always has been there for them and that they could always rely on me.

What makes you stay optimistic about the future of Curaçao in general?
I am an eternal optimist, I belief in our people, their good heart and good intentions. I know that there has to be a better way.

Is there anything else that you would like to add?
Do things from a good place, from the heart even if it means that you make mistakes.
As the core group of Share2Uplift we love and deeply respect Anuschka Cova for her commitment and passion to be a change agent in Curaçao. We respect her drive to use her obvious leadership skills to be significant in Curaçao, for her children and her commitment through the foundation: "
Tur mucha mester kome
" to bring about a change in Curaçao for the 4 % of children that go to school with an empty stomach. We encourage her commitment to explore the unknown and enable new entrepreneurs to explore and develop their ideas to re-invent the Curaçao economy via the FlipTank Curaçao. We definitely consider her one of the 250 ethical leaders of our Island, that continuously works at influencing people's mindsets for the better, especially in the business sector of our society. And we are so aligned with her thinking aimed at enabling Executives to change their mindsets in an ever changing world that is going through lots of disruptive transformational changes. We definitely consider her one of the 250 ethical leaders of our Island, that continuously works at influencing people's mindsets for the better especially in the business sector of our society.

The goal of the core group of Share2Uplift for 2020



As the Share2Uplift movement our goal for 2018 has been to identify 250 ethical leaders (Influencers) to be empowered by 21st century mindsets and are connected and collaborate with one another to create value for the whole of the society. This goal has only been partially met. We now want to reach this goal by the end of 2020.
Look at the list of the Influencers
we have interviewed or reported on, up to now.
As Share2Uplift we are fully trying to align with this thinking of Center for Curriculum Redesign to promote this agenda in our educational systems and workplace. So, in that sense we fully support any initiative to make our educational system 21st century proof.
Share2Uplift aligners are those that:
– Create an inspiring vision of the future;
– Motivate and inspire people to engage with that vision;
– Manage delivery of the vision;
– Coach and built a team, so that it is more effective at achieving the vision.
These criteria are now being polished.
We also consider these 5 values of the most important ones for Share2Uplift aligners. They are:
• Peace from within;
• Compassion;
• Respectfulness;
• Integrity;
• Responsibility.
As we will progress towards this goal we will update you on the progress.
Visit the website for more information.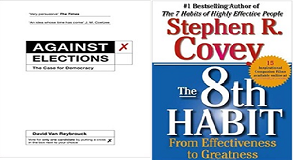 Master Your Mind Platform Book Session
The next Master Your Mind Platform session will be on the 21th of May

We would like to invite you to our next MYM-platform session on Tuesday, the 21st of May (3rd Tuesday of the month), where we will present two books:
"Against elections", by David Van Reybrouck to be presented by Michiel van der Veur and "The 8th Habit", by Steven Covey, to be presented by Haydee Hermans.

What is "Against elections" all about:
Fear-mongering populists, distrust in the establishment, personality contests instead of reasoned debate: these are the results of the latest elections. In fact, as this ingenious book shows, the original purpose of elections was to exclude the people from power by appointing an elite to govern over them. Yet for most of its 3000-year history, democracy did not involve elections at all: members of the public were appointed to positions in government through a combination of volunteering and lottery. Based on studies and trials from around the globe, this hugely influential manifesto presents the practical case for a true democracy – one that actually works. Urgent, heretical and completely convincing, Against Elections leaves only one question to be answered: what are we waiting for?

What is "The 8th Habit" all about:
Today's new reality requires a change in thinking: a new mindset and a new skill-set—in short, a new habit. The crucial challenge of our world today is this: to find our voice and inspire others to find theirs. It is what Steven Covey calls the 8th Habit. The 8th Habit is the answer to the soul's yearning for greatness, the organization's imperative for significance and superior results, and humanity's search for its "voice."

Date: 21st of May,
Time: 7 - 9 pm sharp
Venue: Chit Chat Cafe at Mensing's Caminada.
Entrance: Free
Click to attend.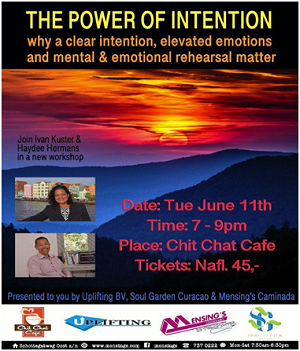 Workshop June
In the series of workshops Haydee Hermans (Soul Garden) and Ivan Kuster (Uplifting BV) will offer this year, we will address the topic: What is holding you back?

This series aims at explaining ways and means to change your mindset and we hope to trigger you take the necessary steps to change your mindset and by doing that change your behavior as long as you are consistent in the actions you take.

Our first workshop of 2019 at Mensing's Caminada as part of a series of three will be:

The power of intention, why a clear intention, elevated emotions and mental & emotional rehearsal matter.

Date: June 11th
Time: 7 – 9 pm
Place Chit Chat Café
Tickets: Nafl. 45,-
Save the day and we hope you will attend.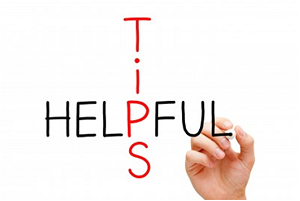 Motivational tips
In this week we focus on different motivational tips based on "What is holding you back". Every day during the week we will upload one of these video links on our Facebook Page.

If The Past Is Holding You Back Watch This Now | Lisa Nichols | This Speech Will Change Your Future - YouTube
www.youtube.com/watch?v=S9avYHuuA68

Lisa Nichols on Rescuing Yourself, Overcoming Fear, and Finding Success By Serving Others - YouTube
www.youtube.com/watch?v=tSxhIp4l1DY

What's Holding You Back? - Grant Cardone - YouTube
www.youtube.com/watch?v=XyJV1sVDkTo

Are Your Friends Holding You Back? - YouTube
www.youtube.com/watch?v=8erjCXsVGeo

What's holding you back? Motivational Video - YouTube
hwww.youtube.com/watch?v=JZ_8MFWGv1k

Fear of Failure - How To Overcome What's Holding You Back - YouTube
www.youtube.com/watch?v=ipuPj0FIXSk
Categories: Influencers, 21st Century Mindsets, Master your mind - Bookclub sessions