| | |
| --- | --- |
| Posted on October 22, 2018 at 12:05 AM | |
In this week's (22nd – till 29th of October) we interviewed Influencer Michiel van der Veur; an invitation for this week workshop at Chit Chat Mensing's Caminada on the 25th of October on Communication and for a 2-day's workshop on 'Happiness' on the 27th and 28th of October and we will share some personal motivational video-links on 'Procrastination'. Every day we will upload one of these video's on Facebook.com/share2uplift.
Michiel van der Veur, a sensitive, but strong human being, willing to be of service to the world


Michiel can you tell us something about whom you are?
"I was born in Holland and I have one brother. I came to Curaçao in in the year 1999, when the migration to the Netherlands was on its peak, and I have worked at the Ministry of Finance, KPMG, SOAB and since 2007 I am an independent consultant and advisor. I like swimming, going to the gym, and love reading books."
If you would meet a stranger in the bus and they would ask you to introduce yourself what would you answer?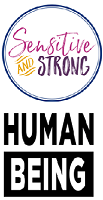 "I would answer that I am, above all, a human being. I am always struggling a bit with this question, since people expect to hear what work you do or what position you hold. I find that this information is almost irrelevant as to who I am, plus I do not feel that I am a director or consultant."


We have come to know you as a person with a very strong sense of justice and you are very socially involved. You are also involved in helping start-ups to reach another level of maturity in their development. Why are doing this?
"Currently, I am a board member of the foundation Youth Vision 5000, which facilitates social entrepreneurs to reach their goals aimed at improving the well-being of the lives of our youth.


I also help start-ups, because I believe in sharing of wealth and I believe in supporting people in their development. By helping entrepreneurs, I hope they will become more self-sufficient, and successful entrepreneurs contribute to the development of the local economy."
What is your BIG WHY or driving motivation to be whom you are right now?
"I am here to facilitate people and societies in their growth."


You are very involved in leadership development now, what have you done, or did you do on leadership development personally in the past?
"I believe leadership is not linked to a managerial position, but to the way we steer our life. I would be a very bad manager, but I am consciously and continuously shaping and evaluating my life. My personal actions on leadership development therefore include meditation, a search for my Big Why and a willingness to confront my deepest emotions."


You are also involved in enhancement of leadership development in Curaçao as one of the core group members of the Whole Island Leadership Expedition? Why do you believe that this platform offers a chance to develop different leadership skills in Curaçao?"Because the Whole Island Leadership Expedition is not a standard solution. It sees leadership as both a combination and exchange of personal and societal development. It is based on personal interaction and sharing experiences, which I believe are crucial to personal development. Finally, I believe our society needs new solutions, the old ways have been tried, re-used and tried again. We have nothing to lose in trying something new."


Whom are the persons that have inspired you the most in your career?
"I am afraid that by mentioning names, I will forget people. However, I have been lucky to meet a lot of different people and have learned something from all of them. I am grateful for the opportunities to learn I have been given over my life."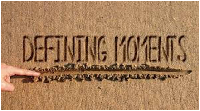 What are some of the challenges, lessons learned, that you have encountered in your life when you ultimately discovered your talents and strengths? Or what was a defining moment in your life, a setback that later turned out to be a great blessing?
"A defining moment was the day I was informed, that I was to be laid off as civil servant in the morning and knew I would be hired by KPMG in the afternoon. As of that day I am sure I will always have enough income to provide for myself."

Do you apply continuous learning as a principle to constantly improve yourself?
"Yes, I do. However, I am not always emerged in courses or books. For me, continuous learning is a process of self-evaluation, perhaps even to the extent of self-doubt."
What are your strengths?
"I am serviceable, loyal, solution oriented, and creative."
How would you to describe Michiel van der Veur in one word or one sentence?
"A sensitive, but strong human being, willing to be of service to the world."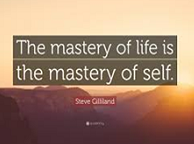 What are your future plans? Can you share with us what are your personal and/or business goals for short and long term?
"I would like to master life and live to be a 100 years old. I want to balance my personal needs and development with helping people, societies, and humanity grow."


What would you want your Loved Ones, family, friends and others to say about you let's say 10 to 15 years from now? "
"I hope my loved ones, family and friends will conclude I have tried to be the best version of me, possible. I hope other people will at least acknowledge that I did not do anything to hurt them deliberately."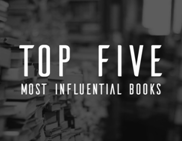 What were 5 of the most Influential Books that changed your life?
" 'Conversations with God' by Neale Donald Walsch because he voiced how I have always felt about my connection to the divine. Many of the books by Geert Mak, because he manages to bring individual stories alive centuries after the person passed away. I recently read 'Sapiens' by Yuval Noah Harari and was impressed by his ability to present such a clear story about human development over the past 70.000 years. 'The Book of Negroes' by Lawrence Hill because it showed me that humans have a superhuman power to deal with even the biggest set-backs. And finally, 'The 100-Year-Old Man Who Climbed Out the Window and Disappeared' by Jonas Jonasson, because it made me turn the pages laughing."
As the coregroup of Share2Uplift we love and deeply respect Michiel, because of his humbleness, his deep humanity and drive for continious personal growth and his drive to serve the community and world at large. Definitely one of the 250 ethical leaders of our Island, that continuously works at connecting dots and creating value for the whole of the society. Share 2uplift is totally aligned with his ambition and his short and long term goals.

The goal of the core group of Share2Uplift for 2018
As the Share2Uplift movement our goal for 2018 is to identify 250 ethical leaders (Influencers) to be empowered by 21st century mindsets and are connected and collaborate with one another to create value for the whole of the society.
As Share2Uplift we are fully trying to align with this thinking of Center for Curriculum Redesign to promote this agenda in our educational systems and workplace. So, in that sense we fully support any initiative to make our educational system 21st century proof.
Share2Uplift aligners are those that:
– Create an inspiring vision of the future;
– Motivate and inspire people to engage with that vision;
– Manage delivery of the vision;
– Coach and built a team, so that it is more effective at achieving the vision.
These criteria are now being polished.
We also consider these 5 values of the most important ones for Share2Uplift aligners. They are:
• Peace from within;
• Compassion;
• Respectfulness;
• Integrity;
• Responsibility.
As we will progress towards this goal we will update you on the progress.
Visit the website for more information.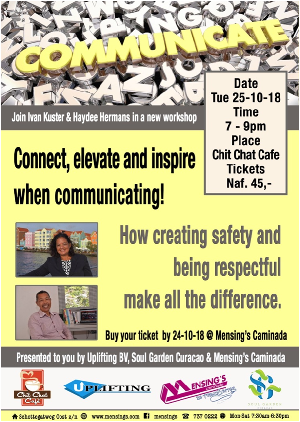 Chit Chat Workshop at Mensing's Caminada on Thursday the 25th of October
We would also like to invite you to our next workshop:


"Connect, elevate and inspire when communicating. How creating safety and being respectful make all the difference."
Date: Thursday the 25th of October


Time: 7 – 9 pm


Place: Chit Chat Café Mensing's Caminada. Contact for more info!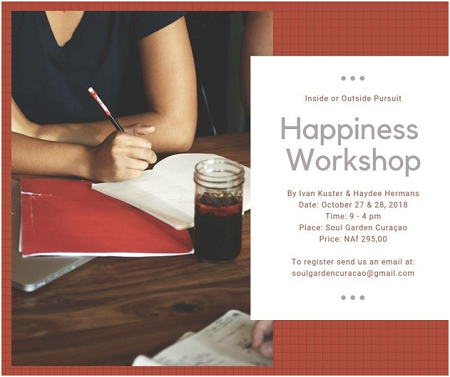 This coming week-end Workshop on "Happiness" on the 27th and 28th of October
In this practice "hands-on" workshop you will:
• Clear your lenses and pre-judgments;
• Choose your to do's;
• Get tips on how to make it stick,
• So that you can start implementing "as of the next day".
Send us an email at soulgardencuracao@gmail.com or call us 5639848 (Haydee) of 6986437 (Ivan).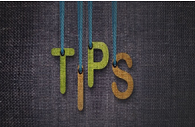 Personal coaching tips
In this week's personal coaching tips, we will share some personal video-links on "Procrastination" and every day, we will upload one of these links on our Facebook.com/share2uplift page.
A Procrastination Hack (that actually works) - YouTube
www.youtube.com/watch?vQ8jtgc_zZE


Break Free from Procrastination in 3 Steps - YouTube
www.youtube.com/watch?v=xTcVvdQsRiE
How to Stop Procrastinating - YouTube
www.youtube.com/watch?v=Qvcx7Y4caQE
How to Overcome Procrastination | Brian Tracy - YouTube
www.youtube.com/watch?v=UPcLkAqS_GE
How To Stop Procrastinating And Finally Get Work Done - YouTube
www.youtube.com/watch?v=CEHmbCPhaNg
How to Stop Procrastinating - Solving The Procrastination Puzzle - Timothy Pychyl - YouTube
www.youtube.com/watch?v=3kcWpC9UQzE
Categories: Share2Uplift, 21st Century Mindsets, Influencers