| | |
| --- | --- |
| Posted on March 26, 2018 at 2:10 AM | |
In this week's blog (26th of March – 1st of April) we will expand on E-Awards foundation new programs for the coming 5 years; we will invite you to the workshop "Top habits for lasting success" on the 27th of March in collaboration between Soulgarden, Uplifting and Mensing's Caminda; we will invite you to our Master Your Mind-platform session on the 19th of April and we will end with some personal coaching tips regarding accepting responsibility over one's life by choosing to be PRO-ACTIVE. Every day in the week we will upload one video every single day on our Facebook page of Share2Uplift.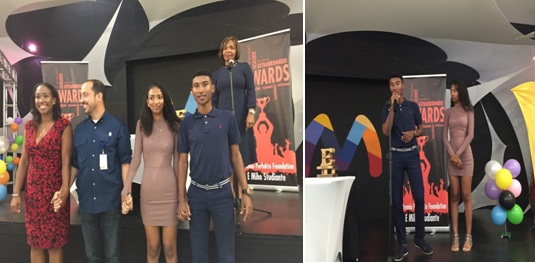 E-awards entering a next 5 year's cycle
On the 21st of March in Sambil E-Awards Foundation directed by Jessica Colastica presented the highlights of their next 5 year's program. This event was also attended by the Minister of Education Mrs. Marilyn Alcalá-Wallé.
The E-Awards foundation started 5 years ago after Nazira Colastica (daughter of Jessica) went from the best student at VSBO to the best student of HAVO to finally ending up in VWO and received a KAP-award. This triggered Nazira to start the foundation with her younger brother, explicitly aimed to pay tribute to those whom have excelled in their performances at school. During these past 5 years the E-Awards foundation have offered tribute to youth from different ages, honoring them for their school results and good behavior. As Nazira had experienced herself this increases their self-worth greatly. It even inspires them to do even better and raise their ambition levels.
Jessica: "We have done some research in the past and it was clear that contrary to mainstream thinking some years ago, most of our youth were doing OK and some even good to excellent. We were convinced that we were not confronted with a lost youth, that was totally out of control. We than decided to emphasize the positive side of our youth and with great success. The event that had the most impact in the past 5 years was the awards we gave to students from different ages and school levels, but we also offered recognition to teachers, parents, secretaries and what have you more. Imagine what the attendance of great number of family members does to a youth when he/she gets an award." E-Awards has also consciously worked on prevention and improved motivation among students, so that the youth could be enabled, to take better and wiser decisions.
But after 5 years there is a changed in focus. They will now also be focusing more on the parents of the students aimed at getting them more involved into the school activities of their children.
During the presentation at Sambil, three projects were introduced:
1. "Kada minut ta konta" for the primary school level;
2. "Den Nos dos" for the secondary school level;


3. " Maestria Innovativo" aimed at teaching students to not only learn what they need to learn, but it is aimed at triggering them to innovate and increase the number of possibilities to look at things. Some of this new curriculum (with 21st century educational elements) has already been introduced on a trial basis to schools with very promising results, as it appears to change the way the teacher looks at and approaches students.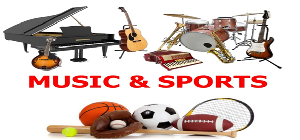 Another part of their focus in the coming years will be to enable students, that have the talent and are interested in music, to develop and practice this interest. Jessica: "Ultimately we will try to enable this at different schools to make it ultimately possible to have a philharmonic orchestra of students form different schools. I firmly belief that if we can get enough parents involved we could, by first taking small steps, collect enough funds to physically improve the music, sports and study class room facilities at schools. Improved class rooms can inspire the students to do even better in music, sports and their learning abilities".
Jessica also shared with us, that the collaboration of schoolteachers and the school boards up to now have been excellent and she is very grateful for this. She also is grateful for the number of volunteer teachers, parents and students from our University, that give a hand in helping the E-Awards foundation reach and amplify their goals. Jessica on her funding: "We have had some very loyal sponsors that had helped us from the beginning till this moment. But we could still use some more sponsors to reach our goals for the coming 5 years". For more information you can contact Jessica at premio-perfekto@hotmail.com or go to their Facebook.com/E-Awards Fundation page. As core group of Share2Uplift we totally support E-Awards and will when possible continue to connect and align efforts.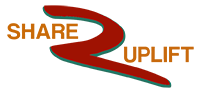 The goal of the core group of Share2Uplift for 2018
As the Share2Uplift movement our goal for 2018 is to identify 250 ethical leaders to be empowered by 21st century mindsets and are connected and collaborate with one another to create value for the whole of the society. As Share2Uplift we are fully trying to align with this thinking of CCR to promote this agenda in our educational systems and workplace.
Share2Uplift aligners are those that:
– Create an inspiring vision of the future;
– Motivate and inspire people to engage with that vision;
– Manage delivery of the vision;
– Coach and built a team, so that it is more effective at achieving the vision.

These criteria are now being polished.
We also consider these 5 values of the most important ones for Share2Uplift aligners. They are:
• Peace from within;
• Compassion;
• Respectfulness;
• Integrity;
• Responsibility.
As we will progress towards this goal we will update you on the progress.
Visit the website for more information and follow us on Facebook.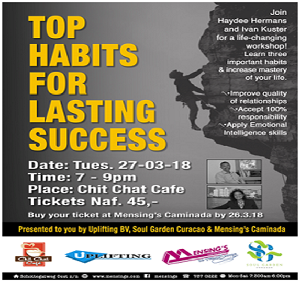 Workshop: Top habits for Lasting Success, a life changing workshop
We would to invite you to the workshop "Top Habits for Lasting Success" on the 27th of March at Chit Chat Café, Mensing's Caminada. In this workshop we will combine insights from different books to focus on three so-called vital behaviors (keystone habits).
If you manage to change these Top habits, it will have a major impact on different other habits and ultimately on your behavior in a positive manner. The books that were used as sources are or will be available at Mensing Caminda.
These books are: The Influencer, by Joseph Grenny; Emotional Intelligence 2.0, Travies Bradberry; The Success Principles, by Jack Canfield; Crucial Conversations, by Patterson, Grenny, MacMillan & Switzler and the number One book addressing How to change Habits "The power of Habit", by Charles Duhigg. So don't miss this opportunity and attend this workshop.
Buy your ticket now at Mensing's Caminada.
Our next MYM-platform session
We would like to invite you to our next MasterYourMind- platform session, that will be on the 19th of April (3rd Thursday of the month).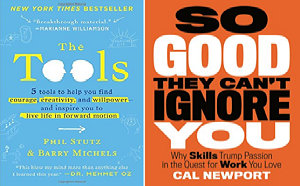 Time: 7 - 8.30 pm sharp.
Venue: Biblioteka Nashonal Korsou
Books to be presented:
In our next upcoming sessions Eelco Baak and Ivan Kuster will present these two books
"So goods you can be ignored, why skills trump passion in the quest for work you love, by Cal Newport. Presenter: Eelco Baak eelco@eelcobaaklifecoaching.com
And "The Tools, 5 tools to help you find courage, creativity and inspiration to help you live life in forward motion", by Phyl Stutz & Barry Michels. Presenter: Ivan Kuster ivan@upliftingcuracao.com
Our goal as the Share2Uplift movement is to enable changed mindsets in Curaçao. One of the most effective ways is reading. Hope to see you and bring along a friend whom is also interested in personal development.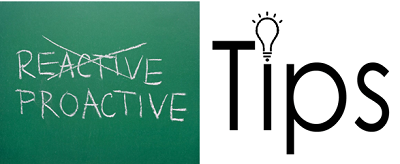 Personal coaching tips
This week we will continue focusing on one vital behavior (keystone habit) we belief is fundamental to chance our life and ultimately will turn around mindsets and behaviors in Curaçao, for the good of all. Check these links on accepting 100 % responsibility and no excuses by choosing to be PRO-ACTIVE. We will upload one video, every day this coming week on our Share2uplift Facebook Page.
Proactive vs Reactive | Be Proactive - YouTube
www.youtube.com/watch?v=Tex0zKuLCMg
Being Proactive - YouTube
www.youtube.com/watch?v=bItXtM00pas
HABIT 1 - BECOME PRO-ACTIVE - ACTION CHANGES THINGS - YouTube
www.youtube.com/watch?v=7ipUUxIgIHI
7 Habits of Highly Effective People | Being Proactive VS Being Reactive - YouTube
www.youtube.com/watch?v=qGkfpG66J0Q
Be PROACTIVE - Ice Cube (@icecube) - #Entspresso - YouTube
www.youtube.com/watch?v=ubV2Dn9Tr_k
The Secret of Being Proactive -Jefferson Santos - YouTube
www.youtube.com/watch?v=1pNC3jnq1YE
Categories: Share2Uplift, 21st Century Mindsets, Influencers